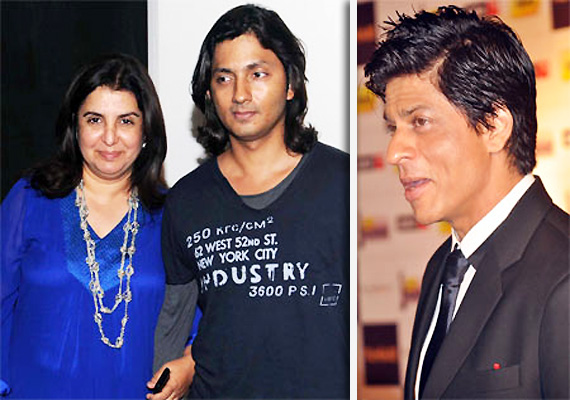 Mumbai, Jan 31: In a patch up bid, choreographer turned director Farah Khan and her husband Shirish Kunder visited Shah Rukh Khan's residence today over the fracas at Sanjay Dutt's party and claimed to have sorted out the matter.  

Kunder, who had said he was slapped by SRK at the party on Sunday night, went to the actor's house Mannat in suburban Bandra with his wife, director brother-in-law Sajid Khan and producer Sajid Nadiadwala to clear the misunderstanding.

"We met today at his (Shah Rukh's) place. Sajid Khan, Sajid Nandiadwala, Farah Khan, Gauri and Shahrukh - we all were there together. We sorted out things. We all felt bad about what happened," Kunder later told PTI.

"There is no animosity any more. There was misunderstanding. We are all friends again. We have cleared everything. Sometimes these things make the bond much stronger," he added.

According to the 'Jaan-E-Mann' director, even the friendship between SRK and Farah, which had soured a few years earlier, is back on track after the patch-up meet.

"With the help of close friends we spent sometime together. Our relation is much stronger than before. Even Farah and Shah Rukh are friends again," Kunder said.

Terming the incident as "ugly" and "blown out of proportion", Farah said the negative stories about the incident was too much to handle.

"What was happening since yesterday was really ugly. The different kinds of stories and rumours, the negativity was too much to handle. I am happy that Sajid Nadiadwala and Sajid Khan took the initiative and we all met up. I think even Shah Rukh was unhappy about it. Fights happen in every family, you have to sort it out."

Farah said that they spent three and a half hours together at SRK's place.

"It was not a pleasant episode. Shah Rukh is a witness on my marriage certificate, so this can't be happening between us. What we spoke is very personal. We were together for three and a half hours, we cried, laughed and joked," she said.

The fracas took place Sunday night at the "Agneepath" success party at a nightclub where Shah Rukh is said to have roughed up Kunder, who has been taking potshots at the actor and his mega budget film "Ra.One" on Twitter.

After the incident, Kunder had said, "Everyone knows what really happened at the party; it isn't a hidden fact at all. Of course it was ugly and I was quite shaken up with what happened. When someone attacks you from behind and comes prepared with a set of bodyguards to protect his own self, you don't really have a choice, do you?

"All I feel is that if at all there was so much pent up anger in him, he could have gone verbal. Getting physical hasn't reflected well on either of us," he said.

Khan, who has been relatively silent on Sunday's incident at a nightclub, today wrote a cryptic message to his Twitter followers, indicating his name has been needlessly dragged in the drama.

"Reading stuff and watching tv...Feel like I am the source & author of a Shakespearean farce...without the poetry or the prose of course!!!," SRK tweeted today without giving any details of his version on what happened.

Both Farah and Kunder had made it clear yesterday that they will not pursue the matter with the police.