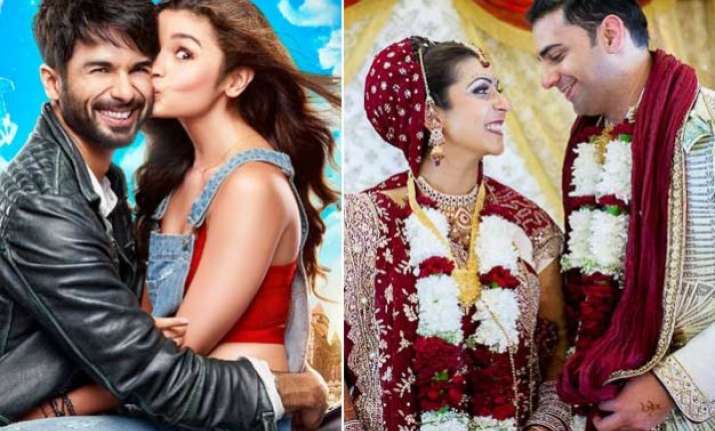 New Delhi: Shahid Kapoor and Alia Bhatt starrer Shaandaar, touted as India's first destination wedding film, is all set to hit the theatres on October 22.
Destination wedding is one in which a wedding is hosted on a vacation destination. Guests are often flown from different location and are made to stay for few days. From venue to decoration to food, everything is lavish and stylish.
The trend of destination wedding is not very widespread in India, but it is picking up very fast. People now prefer to combine wedding with holidays.
Releasing on Thursday on the auspicious occasion of Dusshera, Shaandaar is the first release for Shahid after marriage while for Alia it is the mark of her three year successful journey in the Bollywood.
The movie will sure give a boost to the destination wedding in India. The overall wedding market in India is estimated around $40 billion (Rs 2.5 lakh crore). No specific figures are available for destination wedding.
While going to places like Singapore and Bali is still catching up in India, Jaipur, Goa and Udaipur are more popular destinations due to budget constraints.
Hosting destination weddings is expensive as compared to traditional weddings as it includes the staying cost of the wedding guests. A destination wedding in Goa for 200 people could easily cost upwards of Rs. 1 crore.
Directed by Vikram Behl, Shaandaar is a typical rom-com movie based on the destination wedding in which Shahid Kapoor will be seen playing the wedding planner who plans a destination wedding in England.
It is during the wedding arrangement that Shahid and Alia will meet in the movie.
Though, 2013 release Yeh Jawaani Hai Deewani had somewhat similar concept, but Shaandaar is the first full fledged movie weaved in and around the concept of destination wedding.
 
We are set to see Shahid and Alia celebrating the destination wedding in a lavish style in Shaandaar.
Such showcase on the big screen is expected to incite 'destination wedding' plans among the Indians, who always have big dreams for their wedding day.
Wedding is once-in-a-lifetime event for most people in India, people are ready to spend more and more to make it truly memorable.
Let's see how Shahid-Alia will give destination wedding goals to the Indians.