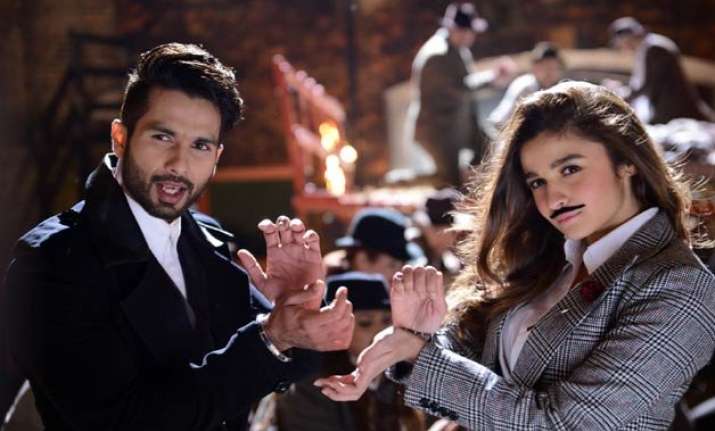 New Delhi: After his much talked about grand wedding, Shahid Kapoor once again became the talk of the town for his upcoming film 'Shaandaar' opposite Alia Bhatt.
Helmed by Vikas Behl, the film bagged a lot of attention ever since it was announced and soon became one of the most awaited films of the year.
Initially, 'Shaandaar' grabbed attention for its cute and adorable lead pair i.e. Shahid and Alia. However, it swept the hearts of the audience with its unusual music which is filled with utter 'desiness'.  
Yes! The soundtracks of 'Shaandaar' are ruling the chartbusters and are something which one can easily relate to.  
With the use of everyday slangs mostly used by the youngsters, 'Shaandaar' is indeed an electrifying album with quirky songs which has made its way directly in everyone's playlist.
Here's a look at the 'shaandaar' songs of the film with their 'desi' touch.
Shaam Shaandaar
Sung by Amit Trivedi, 'Shaam Shaandaar' is an electrifying number perfect for parties. The high energy song starts with the bhangra dhol beat and interesting lyrics 'shaam shaandar'. This peppy number will make you hit the dance floor instantly.
Gulabo
This was the first song form 'Shaandaar' which was released and it instantly made it to everyone's playlist. The song features Shahid Kapoor's real sister Sanah Kapoor who is the 'Gulabo'.  
While the lyrics of the song are vibrant and fresh, it gives a crude desi touch with lines like 'zara gand phaila do'. Also Amit Trivedi's music added life to the song.
Senti Wali Mental
A very casual song, 'Senti Wali Mental' is basically a face off between boys and girls.
While the song features a lot of leg-pulling and teasing, the words like 'senti wali mental' give it the desi teen touch. Composed in a qawali style, the song is quite unique in its dholki style.
Raitaa Phailgaya
A complete 'Punjabi by nature' song, 'Raita Phailgaya' is the one that suits all the drunken unlces at the wedding.
While the title of the song 'Raita Phailgaya' gives a crude desi touch, Amit Trivedi's music and the beats makes it a total crazy song.
Infact Amitabh's lyrics did wonders in the song which describes really interesting situations in humourous way. It would sure be fun to watch this song on the screen!
Shahid Kapoor, Alia Bhatt starrer 'Shaandaar' is all set to hit the theatres tomorrow and with the level of anticipation it has created, lets see if the film will be able to stand up to the expectations of the audience.