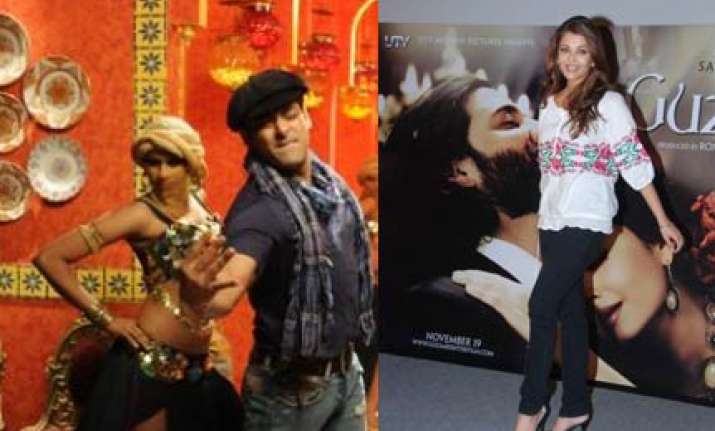 Bollywood star Salman Khan did not allow the team of Guzaarish to promote their film on Bigg Boss. But talks are still on, insists the marketing team of the film, reports Mumbai Mirror.
Due to Salman Khan's weekend appearances, Bigg Boss has become immensely popular with its viewers. Naturally, filmmakers have been eyeing the show to come and promote their respective films on it.
One such film that was finalised for the show was Sanjay Leela Bhansali's Guzaarish. However, when Salman learnt about it, he told the channel in no uncertain terms that the Guzaarish team will not be allowed on the show. 
Te report quoting a source says, the marketing team of Guzaarish and the channel were in talks and everything was finalised. Both the production house and the channel were keen that the Guzaarish team appeared on the show.
No one realised that it would actually be a very awkward situation for both Salman Khan, the host of the show and Aishwarya Rai, the leading lady of the film, given their past. Obviously, when Salman learnt about it, he immediately refused to comply.
Although Salman is very close to both Hrithik Roshan and Sanjay Leela Bhansali, he apparently did not want to be in a situation where he would have to come face to face with Aishwarya Rai. The channel had no say in the matter after this. The marketing team had no option but to refuse the Guzaarish team."
Apparently, Salman had also visited the sets of Guzaarish some time ago at Mehboob Studios and met Hrithik and Bhansali. After all, since his Khamoshi days, Salman has revered Bhansali and his work; till date the film remains one of Salman's best works.
Post that, Sallu and Bhansali created magic in Hum Dil De Chuke Sanam. Later, Salman went on to work with Bhansali again in Saawariya. And who knows, they probably plan to work together again.
"But to be fair, allowing the Guzaarish team in would have landed Sallu in a situation he never wanted to be in. It's a thing of the past and both Ash and Sallu have consciously avoided meeting one another," the report quoting a source says. .
However a channel spokesperson said, "It's not true. Talks with the Guzaarish team are stAill on."