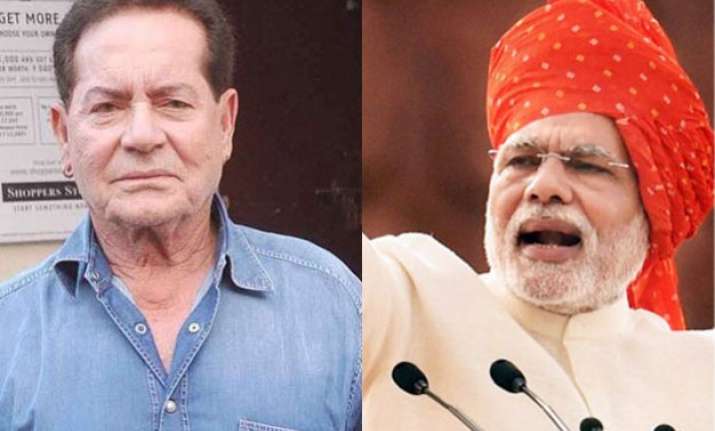 New Delhi: Veteran Bollywood scriptwriter and actor Salman Khan's father Salim Khan has come out in support of PM Narendra Modi while talking on the issue of increasing religious intolerance in the country.
He said that PM Modi is not communal but feels that the government must address concerns of artists returning their awards.
"Well, these incidents have nothing to do with PM Narendra Modi – he is not a communal person at all. He totally disapproves of whatever is happening from either side, Hindus or Muslims," he was quoted as saying by a leading daily.
Caught on Cam: Drunk Salman Khan singing 'sad songs' with friends
Asserting that award returnees are genuine, Salim Khan said, "It is not easy to return an award any awardee receives after years. They're throwing away their own merit to express their frustration. They're not trying to insult anyone – they're expressing their view non-violently."
However, he clarified that those returning awards should "write to the government first and shouldn't just return awards randomly".
Salman makes fun of ex-girlfriend Katrina, says 'she was of no use to me'
In the interview, Salim Khan was also asked why communal frictions are recurring to which he replied that it is the work of some fringe elements and maintained that there's no place better than India for any minority.
He also gave a piece of advice to Muslims on maintaining peace in the society saying "If this is the only country you want to live in, because you feel at home, then respect this nation, respect its culture, live in harmony."
Salim Khan also lambasted noted journalist and politician Arun Shourie for being overly critical of PM Modi over the issue.
"Narendra Modi is a personal friend – and Modi is not communal. I wonder if Arun Shourie would have said the same things if he was holding an important ministry in the current government," Salim fumed.