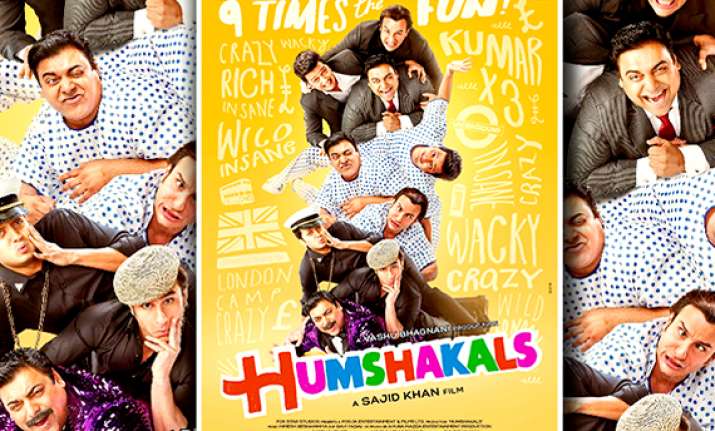 Sajid Khan's comedy entertainer of the year, 'Humshakals' is out with its first trailer. Poised as the biggest comedy flick of this year, the film has guaranteed not double but triple doze of amusement.
From the trailer, it is quite clear that the film is an assortment of hilarious acts put together in a perfect comedy set up by
Saif Ali Khan
, Ritiesh Deshmukh and Ram Kapoor in the lead roles. As shown in the trailer, the film seems to be quite a unique stance of comedy as there has never been any Bollywood flick with its three main lead cast in three different roles.
Starring hot and sassy
Bipasha Basu
, Esha Gupta and Tammanah Bhatia, 'Humshakals' has certainly got that extra fervour of glamour too.
Wrapped in a distinct humour of confusion and fun, the film is sure to give a colourful few hours of joy when you are watching it on big screen. As disclosed form the trailer itself, both Saif and Ritiesh are trapped in a puzzle of their identity justification. As they carry on with convincing Ram Kapoor about their original self, they get more delved in the problems.
While it would be for the future to see whether the story has some humourous punch or not, as of now, Sajid's this attempt appears to have got nothing new with the similar multi-characterisation and the story build out of whole lot of confusion and funny drama.
Watch the trailer here and enjoy a bit from the enormous laughter that awaits you till 'Humshakals' get released!     
However, with those beautiful locales and not-to-undermine the power of sexy beauties in the film, 'Humshakalas' look like a triple comic treat for the viewers. A film that can make you laugh out loud!