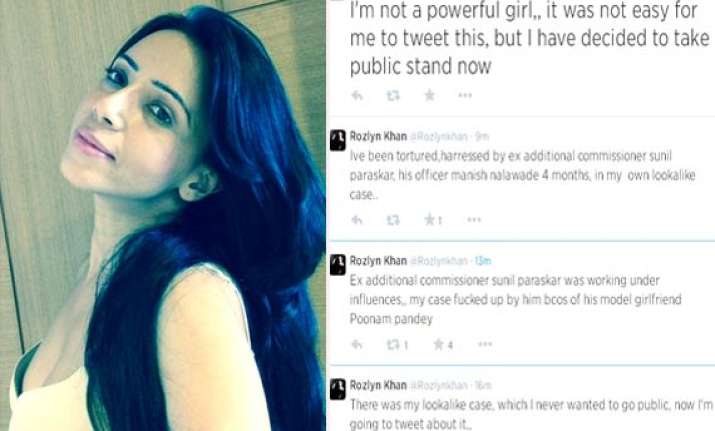 New Delhi: Months after her look-alike was arrested for running escort business  using her name, Rozlyn Khan has finally broken her silence and revealed some shocking details about the case, which according to her was never taken seriously by the Additional Police Commissioner (North) Sunil Paraskar. In fact, he tortured and harassed her under the disguise of this case for four months.
The Gladrags model took on the social media and opened her heart out over the look-alike case, which gave her unnecessary media attention.
"There was my lookalike case, which I never wanted to go public, now I'm going to tweet about it..", tweeted Rozlyn Khan.
Shockingly Khan, who is the first model to have a web comics 'Savitha Bhabhi' sketched on her, also roped in Nasha actress Poonam Pandey in this case.
"Ex additional commissioner  Sunil  Paraskar was working under influences,, my case fucked up by him bcos of his model girlfriend Poonam Pandey", wrote Rozlyn.
The 25-year old model blamed the ex additional commissioner Sunil  Paraskar  and his officer Manish Nalawade tweeting, "Ive been tortured,harressed by ex additional commissioner sunil paraskar, his officer manish nalawade 4 months, in my  own lookalike case.."
Rozlyn gathered all the courage and finally made this ugly truth public as she says,
"I'm not a powerful girl,, it was not easy for me to tweet this, but I have decided to take public stand now."
Back in January, Khan found herself in an awkward situation when her inbox and social networking account got flooded with requests from men to have sex.
Digging deeper the situation, she came across an online escort site on Facebook "Rozlyn Khan mum Independent Escort" affixed with her blurred image.
Khan contacted the Additional Commissioner of Police  and filed a complaint. The team instantly got into action and laid a trap to catch her look alike.
They called the accused in a Goregaon hotel, which she readily agreed for a deal of Rs 50,000. On approaching there, they were all shocked to witness the mirror image of Rozlyn Khan and finally arrested her.
But looking at the latest exposure by Rozlyn, a new controversy has made its way.