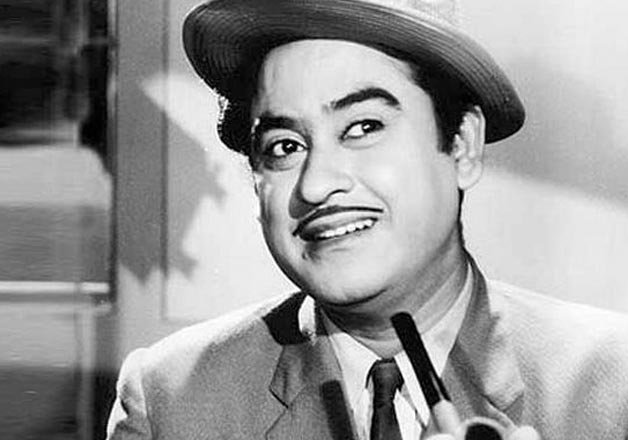 The most versatile singer of Indian cinema and a man of charismatic personality, Kishore Kumar's golden, evergreen voice always brings us tons of nostalgia. 
Born as Abhas Kumar Ganguly, Kumar started his career as an actor in Shikari (1946) and the first ever song he sung was "Marne ki duayen kyon mangu" for the film Ziddi (1948). 
He went on to act and sing in eminently distinguished films like Chalti Ka Naam Gaadi, Musafir, and Padosan.
His songs are undoubtedly beyond par excellence. In today's world there is hardly any singer who is not inspired by the legendary actor-singer Kishore Kumar. He gave his voice not only to Hindi songs but also sang for many Marathi, Gujarati, and Kannad movies. 
Kishore Kumar's exuberating strength and overwhelming zest for life made him the inspiration of millions.
Kishore Kumar made comic acting an evolved art in this industry. Although as a singer, he was unsurpassed.
The life of Kishore Kumar was a life one can only dream of.
However, Kumar's love life saw many ups and downs, he married four times
Here's a description of his four marriages.
1)    Ruma Guha Thakurta (1934)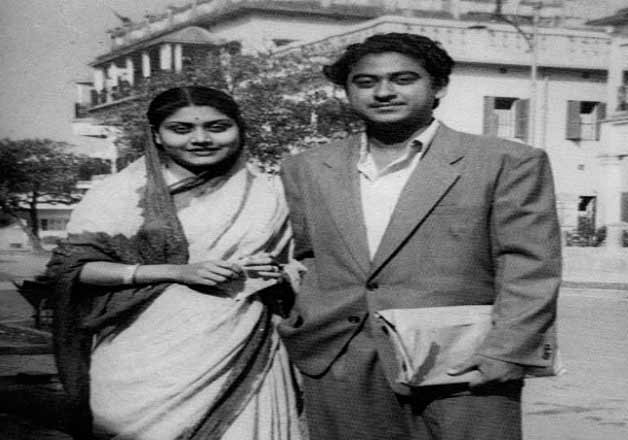 Kishore Kumar's first marriage was with Ruma Guha Thakurta. Ruma Guha Thakurta is a Bengali actress and singer. She was last seen in 2006 Hollywood film Namesake.
She is a daughter of Monty Ghoshand and niece of Satyajit Ray.  She has founded Calcutta Youth Choir in 1958. 
Kishore married Ruma  in May 1951 in Bombay, and  the following year their son Amit Kumar was born. 

The couple separated over a clash over her demands as Kishore Kumar wanted her to work as a home maker while Ruma gave priority to her career. So the couple divorced in 1958.   

Ruma then married Arup Guha Thakurta.
2)    Madhubala (1933 –1969)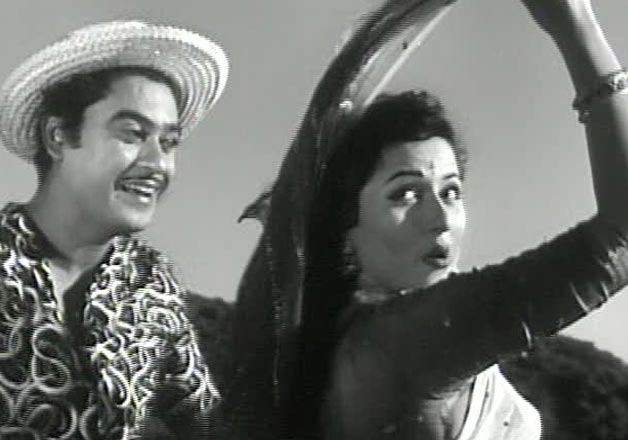 Madhubala was to Bollywood what Marilyn Monroe was to Hollywood. She was born as Mumtaz Begum Jehan Dehlavi in 1933 in a poor Pathan family, and was one of 11 children.
She was Kishore Kumar's second wife. After their marriage Kishore Kumar converted to Islam and took up the name Karim Abdul. He did so for Madhubala's   parents as they had a lot of issues regarding their marriage. But Madhubala was never accepted by his family. They remained married for 9 years.  
Madhubala  married Kishore Kumar after her relationship with Dilip Kumar faded.
Madhubala had a hole in her heart which was detected while she was shooting for Bahut Din Huwe in Madras in 1954.
Her marriage with Kishore Kumar after its initial bliss turned out to be stormy and depressing.Madhubala's terminal illness confined her to her house which caused huge amounts of tension between the married couple. 
Madhubala knew that she will not survive too long. In the last few years of her life, she was confined to her bed. 
She died on February 23, 1969, shortly after her 36th birthday. 
3)    Yogeeta Bali (1952)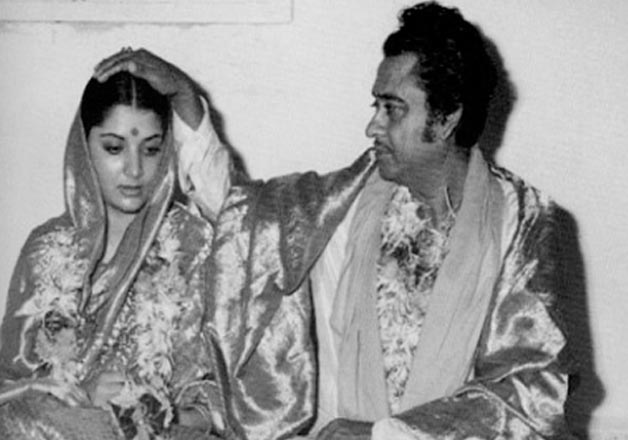 She is niece of Bollywood actress Geeta Bali, who is Shammi Kapoor's first wife.
Yogeeta Bali became Kishore Kumar's third wife. They married in the year 1976 and separated just after two years in 1978. 
It is said that married Yogita fell in love with actor Mithun Chakraborty on the set of his film Khwab (1980).
She divorced Kishore Kumar to marry Mithun, thus also starting the singing career of Bappi Lahiri.
As initially Kishore Kumar refused to sing for Mithun and hence Bappi Lahiri the music director of many of Mithun's early films sang for Mithun himself.
One of her best films was 'Biwi-O-Biwi' in which she starred opposite to a very prominent actor Sanjeev Kumar. 
When asked by Pritish Nandy, a very famous Indian poet and journalist, in an interview earlier, about her Kishore Kumar had said, "That was a joke. I don't think she was serious about marriage. She was only obsessed with her mother. She never wanted to live here."
4)    Leena Chandavarkar  (1950)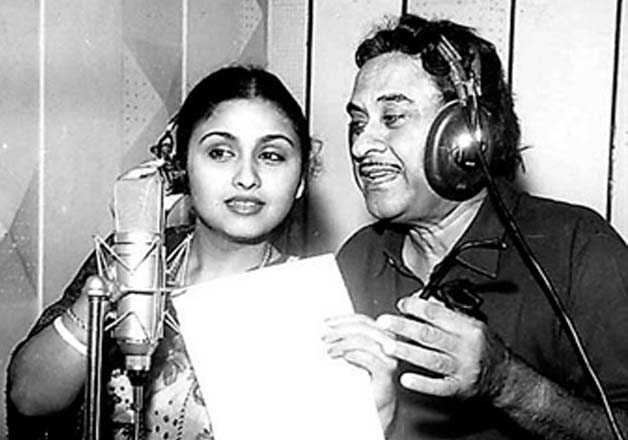 At the peak of her career, Leena settled for an arranged marriage with Siddarth, who came from a prominent political family. 
He died in an accident just after few days of their marriage, leaving Leena a widow at a very young age of 25.
When Kishore Kumar came into her life she was a widow and he was thrice married. Their lives were not meant to intersect, not in the way it eventually did. 
The age difference between them was of 21 years. 
Leena first saw Kishore while shooting for her debut film 'Man ka Meet' in 1968.
It didn't take Kishore too long to convince Leena.  Even though Leena Chandavarkar's father was against  this relationship, Kishore Kumar went all the way to Dharwad, where Leena's parents resided. 
In order to convince them he not only sang songs but also held a dharna outside their house. It was the song - 'Nafrat karne walon ke seene mein pyar bhar doon (Johny Mera Naam)' that convinced her parents and the two tied the knot in 1980. 
He remained married to Leena till his death in 1987.