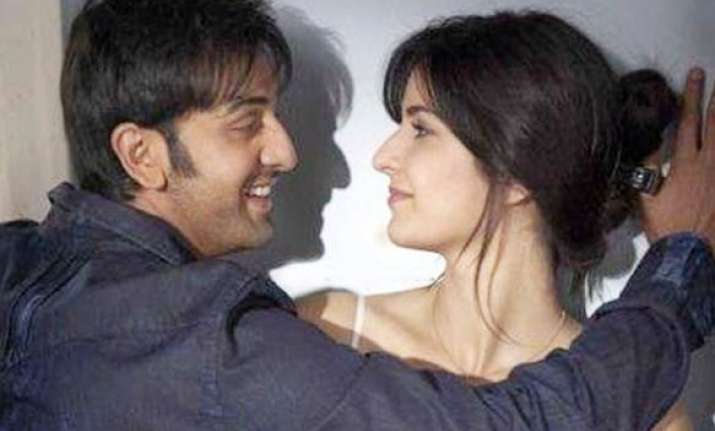 Bollywood  stars Ranbir Kapoor and Katrina Kaif  wre caught snuggling to each other inside the international flight LH 576 from Frankfurt to Mumbai on Sunday night, says a media report.
The report quotes Radio One Host Malini Agrawal as writing on her blog (missmalini.com) that her friend witnessed the lovebirds snuggling to each other throughout the eight-hour long flight.
The couple have so far always denied being involved. But they can't do so anymore.
This is what the blogsite malini.com writes:
"Oh. My. God. It's true! I swear I didn't believe it till a friend of mine told me last night that he was ON their flight from Frankfurt to Mumbai on Sunday night seated in the same first class row (that's row 81 seat #J & K upper deck First Class to be precise!) as Ranbir Kapoor and Katrina Kaif and they made out the whole way!  
"Here's the juice:
- Ranbir was acting all "I'm a movie star" and blocking the aisle, my friend didn't even recognize him till he saw Katrina and put it all together thanks to Google.
- All the foreign business folk in first class were wondering who they were till it became obvious since they were reading scripts on the flight.
- Katrina looked pretty Plain Jane with zero make up on until they were about to land and she put on her make up for arrival.
- Ranbir asked for blankets for them both, but neither of them were sleeping!
- 8 hours of cuchi-cooing convinced my friend that thy were really into each other.
…and voila rumor confirmed! Thank you Rani 1 and Lufthansa you just made my day! "
According to the eyewitness report, "The first class had many European businessmen, and not too many passengers recognised them. Katrina was wearing a casual T-shirt and jeans and had no make up on.
Initially she kept looking around to see if there would be any familiar Indian faces, but when she saw that wasn't the case, she got comfortable in her seat and started talking to Ranbir. After the flight took off, they cosied up and RK was seen planting kisses on her cheek and she didn't seem to mind at all."
Apart from enjoying the first class services, they also used the time to get some work done.  
"There were a couple of scripts piled up on their table. They both engrossed themselves in them. At one point they were even reading out their parts out loud, as though they were rehearsing. Ranbir later called for some blankets, but neither of them were seen taking a nap."
RK was in Amsterdam shooting an ad for a newly endorsed product, while Kat had joined him to spend some time.  
The two were planning to get away from the city for a while, and this seemed like a perfect opportunity.  
Especially since
Salman Khan
is out of the country shooting in Bangkok for a 50-day schedule.