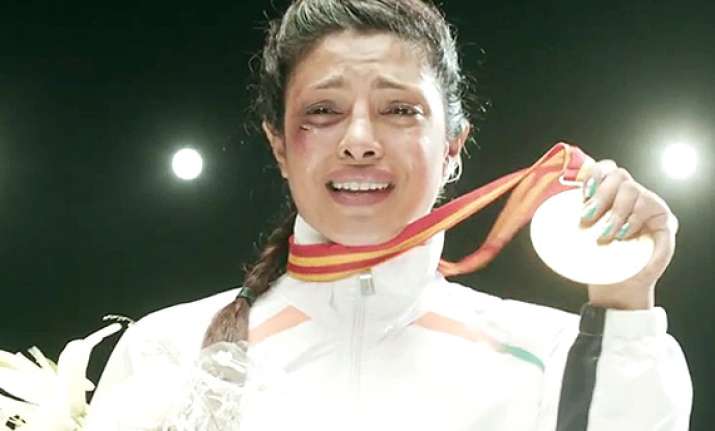 New Delhi: Priyanka Chopra can evidently be seen pushing herself beyond limits to be 'the Mary Kom' of India in the latest out song 'Salaam India.'
A patriotic song, sung with much vigour to ignite the passion of achieving your aim, Salaam India is a truly motivational one.
Apart from the brilliant assortment of slow and fast music, what also fits to the mood of the song is fierce Priyanka Chopra. It will not be an exaggeration to say that the lady finally shows how much of efforts and pains she has actually taken to absorb this athletic character. The video will make you applaud this actress for trying so hard to justify her character.
Crooned by Vishal Dadlani and Salim Merchant, 'Salaam India' has been composed by Shivam Pathak and penned down by Sandeep Singh. The earlier out songs viz 'Sukoon Mila' that was a romantic-slow number and 'Ziddi Dil' that was again an inspiring one, Mary Kom has now offered a song that is highly enthusiastic and yes patriotic too.
Elaborating on her voyage from being just a boxer to the World Champion, Salaam India clicks you right there when you wished to see a stubborn Priyanka Chopra roasting herself in the most of the vicious situations to come out as the best.
As she trains herself both mentally and physically, it surely comes as a visual treat to see how stiff and strong she makes herself pioneering the fact that 'nothing is impossible.'
Salaam India is one song that does not fills you with whole emotional patriotism that most of such songs do. But, it is a musical offering that triggers you to stand up, act now and work towards the achievement of your goal.
Watch the newly out stimulating song 'Salaam India' from Priyanka Chopra's Mary Kom here…     
Comparing it with songs like 'Chak De' and 'Rang De Basanti' would not be justified but 'Salaam India' fits well when we are looking for a song that is both inspiring and patriotic at the same time.
Overall, the feel of the song is well communicated as it says 'desh ye sikhata hai, himmatein badhata hai…thokar se gir k na tu rukna bewajah.'
'Salaam India' seems to be telling you to gear up for a fierce combat with obstructions lying between you and your dreams.
Directed by Omung Kumar, Mary Kom also stars Darshan Kumar and Sunil Thapa and is slated for release on September 5.