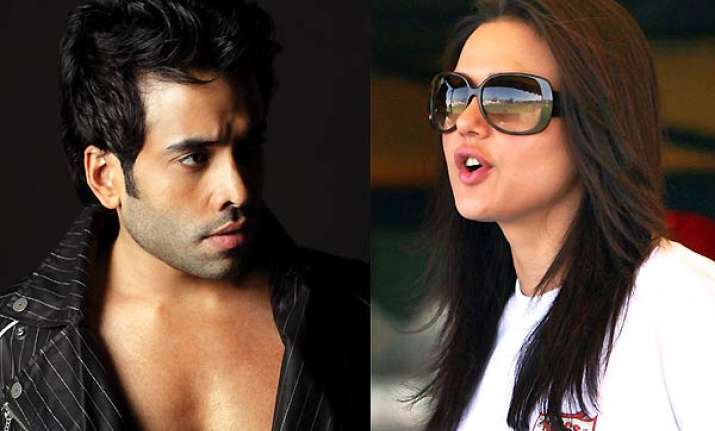 A Furious Bollywood star Preity Zinta  has demanded an apology from Tusshar Kapoor for making a frivolous comment about her on Karan Johar's TV show, says a media report.

In a still-to-be-aired episode, the host asked his guest 'who comes to mind when I say the following things.' One of the prompts was botox/cosmetic surgery, to which Tusshar repled: Preity Zinta. When this bit of news reached the actress, she was livid. She called Karan to complain and requested him to delete the offending question.

A source close to her says, "Preity doesn't talk rubbish about anyone. She sees no reason why Tusshar, who she hasn't even worked with, should take off on her without provocation."

Not one to take an insult lying down, Preity called Tusshar to fire him and demanded an apology. He told her that he regretted making the statement.

Tusshar confirms, "Preity called me. She was upset and I cleared my stand." He clarifies why he made the comment on the show.

"Everyone knows that Karan's rapid fire round is just for laughs. You don't even have the time to think when Karan puts you in the dock. Recently, I saw Preity's picture in a magazine and she was looking stunning having lost a lot of weight. So, when Karan asked, Preity's name just came out at the spur of the moment. There's nothing more to it." he says.

He continues, "I've loved Preity since Soldier. I didn't mean to hurt her and I'm feeling bad that my comment turned into such an ugly controversy. I'm glad that we spoke and sorted it out rather than letting it snowball into something worse. I don't even know what botox actually is, and why will I say something like this about someone who I truly respect."

When asked if the said question had been deleted, he said, "I don't know. Maybe some of what I said might have been edited out," the Golmaal actor concludes.