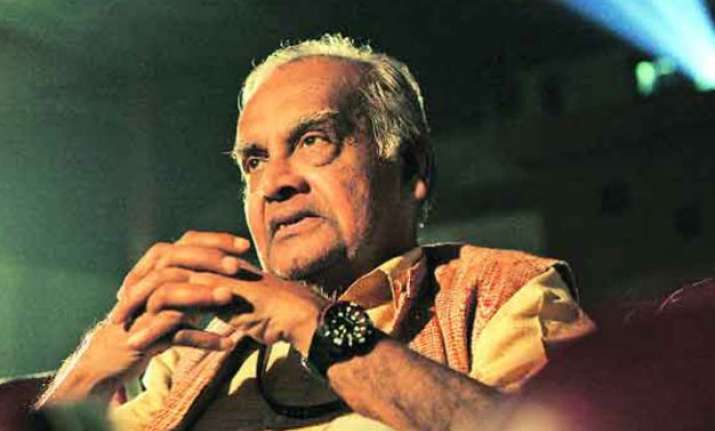 Mumbai: India's pioneering film archivist and film scholar P.K. Nair, who won the epithet 'celluloid man' for his impeccable body of work as the founder of the National Film Archive of India (NFAI), breathed his last on Friday morning. Indian film fraternity members mourned the demise of the "beloved son of cinema".
Nair was 82, and had been battling critical condition for the past 10 days at a hospital in Pune. His last rites will be conducted on Saturday, but first his body will be placed at NFAI starting 8 a.m.
Nair's unending passion for movies, their preservation and restoration, remained fascinating to most industry persons.
It was just in October last year that Nair had attended the screening of filmmaker Hansal Mehta's latest movie "Aligarh" at a film festival.
Recollecting the moment, Mehta shared: "RIP PK Nair, celluloid man and inspiration. Privileged that he made the long trip to Regal and watched 'Aligarh' at MAMI. Salute."
It was this spirit and love for cinema that made Nair the legend he continues to be even after his death.
Filmmaker and film archivist Shivendra Singh Dungarpur, whose 2012 documentary film "Celluloid Man" explored the life and work of Nair, termed Nair's death as "the end of a great chapter".
On an emotional note, Dungarpur, who considers Nair his "spiritual father", told IANS: "He contributed to developing not only film archiving, but also a generation of filmmakers. He was the man responsible for NFAI."
Mumbai-based film historian S.M.M. Ausaja told IANS: "After Feroze Rangoonwalla, this is the second blow to the world of cinema archivists. And it's a very small niche world as it is."
Born in 1933 in Thiruvananthapuram, Kerala, Nair's interest in films began with 1940s Tamil mythological dramas such as "Ananthasayanam" and "Bhakta Prahlada".
His interest in films began with 1940s Tamil mythological dramas such as "Ananthasayanam" and "Bhakta Prahlada". The documentary on his life reveal how he had watched his first few films lying on the white sand floor of a cinema in Trivandrum.
He was also a collector of small memorabilia, and it eventually grew into love for collection of films.
His stint with the NFAI started in 1965 as assistant curator. And 17 years later, in 1982, he became its director.
When he retired in April 1991, he had collected over 12,000 films, of which 8,000 were Indian. These include the works of legendary filmmakers such as Satyajit Ray, Ritwik Ghatak, Mrinal Sen, V. Shantaram, Raj Kapoor and Guru Dutt; and then there were films of international stalwarts like Ingmar Bergman, Akira Kurosawa, Andrzej Wajda, Miklos Jancso, Krzysztof Zanussi, Vittorio De Sica, and Federico Fellini.
Members of the film fraternity on Friday paid condolences, hailing Nair for his work in preserving the country's rich cinematic history.
"What a loss... PK Nair. How he loved film and was so knowledgeable. RIP," tweeted veteran actress Shabana Azmi.
Veteran movie critic Anupama Chopra said that Nair had "single-handedly preserved India's cinematic heritage", and added: "We all owe you. Salute and thanks for the education and inspiration."
Actress Renuka Shahane remembered him as a "great archivist who painstakingly preserved our celluloid history for us"; while filmmaker Sangeeth Sivan shared: "His passion for cinema was unparalleled and so is his pioneering work. RIP."
Even the younger generation in Indian filmdom realises the value of Nair's work.
"Masaan" writer Varun Grover tweeted: "PK Nair saab goes beyond the end-credits. A man who loved cinema so much that he singlehandedly discovered many lost gems and archived them. He founded and then managed NFAI for many years - literally starting the culture of film conservation and archiving in India. Legend.
"Fighting a million bureaucratic battles along the way, he never lost that bonafide film-buff zeal. Sadly, we haven't learnt much from him."
Actress Shilpa Shukla, referring to a bout of unexpected showers in Mumbai on Friday morning, shared: "No wonder the thunder - Rest in peace beloved son of cinema who never abandoned her. Shri PK Nair, regards and prayers."