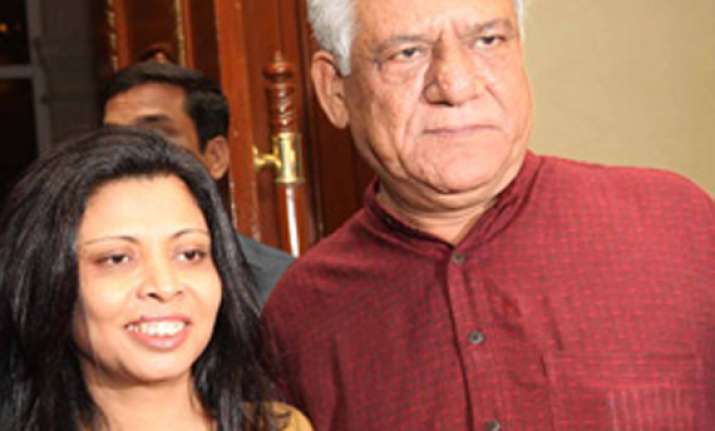 Mumbai: Noted actor Om Puri, who has been charged of domestic violence, today accused his estranged wife of targeting him and said the truth will prevail.
Puri's wife Nandita filed a police complaint on Thursday accusing the 62-year-old actor of hitting her with a stick after an argument at their Versova flat last week.
"I do not want to talk much about all this. She is targeting me. The matter is sub judice as it is in court. The matter will come tomorrow morning for hearing," Puri told PTI.
Nandita had earlier complained that Puri was not paying her maintenance and school fees of their son.
"You can ask the entire building and our staff that who abuses. I have all the evidence (of paying maintenance and school fees). Truth will come out.
"I have been working in the industry for 35 years, have acted in over 250 films here in 20 films abroad but no complaint of abuse or beating or misbehaviour or anything negative has ever come out against me. It shows she is lying," Puri alleged.
"I understand what my son (Ishaan) would be going through. I was quiet because of my son," he said.
Om Puri is not traceable, a police officer said Tuesday, adding the actor was being sought in the wake of a domestic violence complaint filed by his wife.
Journalist-columnist Nandita Puri filed the complaint at the Versova Police Station on Aug 23.
"When Nandita Puri had come to the police station, we sent her to Cooper Hospital and she also submitted a medical report post the check up," the police officer from Versova Police station said.
"In her statement, she said that she had been hit with a stick by her husband. Ever since she had filed the case, we have been looking for him. There have been no developments so far as we are still looking for him," the officer added. 
An alumnus of the National School of Drama and the Film and Television Institute of India, Om Puri carved a niche for himself with films like "Aakrosh" and "Ardh Satya". He also entertained viewers with his comic timing in "Hera Pheri". 
This is not the first time Nandita and Om Puri are facing problem. In 2009, when Nandita came out with a biography on her husband titled "Unlikely Hero: The Story Of Om Puri" highlighting some of his most private sexual incidents, it had upset the Padma Shri winner.