Follow us on New Delhi: The Saudi Arabian embassy in the US has denied media reports that the country's state television had blurred out First Lady Michelle Obama at a meeting between President Barack Obama and the new Saudi king.
The Saudi embassy said in a tweet, "Report by Bloomberg View's Josh Rogin that Saudi TV "blurred" image of First Lady Michelle Obama is FALSE. Should check facts, not Facebook."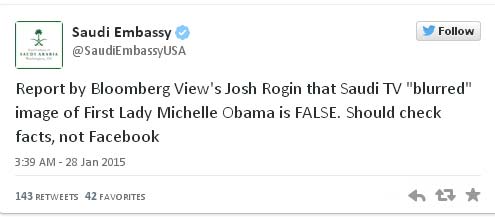 Video clips circulated online Tuesday purported to show that Saudi state television blurred out First Lady Michelle Obama while meeting new Saudi king.
Wall Street Journal's Saudi correspondent Ahmed Al Omran tweeted, "Contrary to what you might have read elsewhere, Michelle Obama was not blurred out on Saudi television"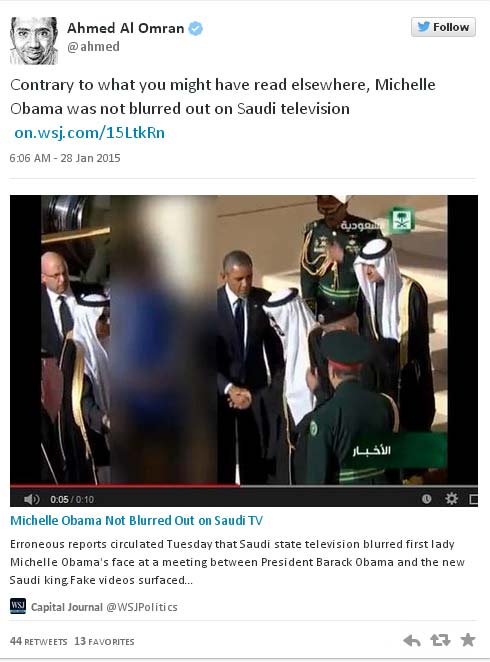 Michelle wore loose clothing that covered her fully, but no head scarf, as is the custom for any woman appearing in public in the conservative Muslim kingdom of Saudi Arabia.
Under the kingdom's strict dress code for women, most women in Saudi Arabia cover their hair and face with a veil known as the niqab. But covering one's head is not required for foreigners, and some Western women choose to forego the headscarf while in Saudi Arabia.
Not all Saudis who greeted the presidential couple refused to shake first lady Michelle Obama's hand during receiving line at Erga Palace in Riyadh on Jan. 27. Cultural norms in the Middle East in general can be tricky for westerners to negotiate when it comes to women and their attire in public.
Social media users tweeted using an Arabic hashtag that translates to #MichelleObama_NotVeiled.