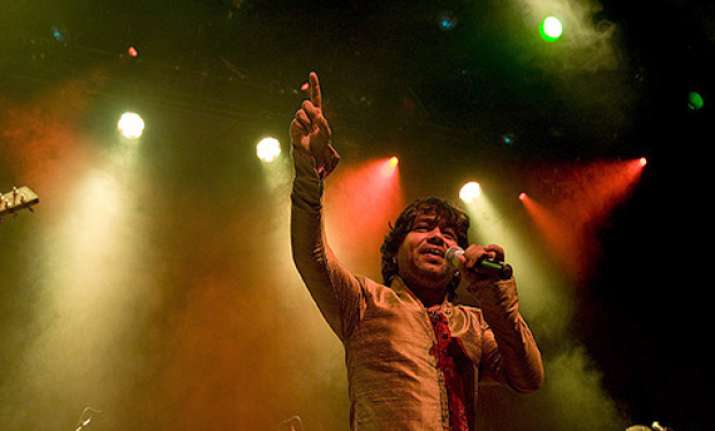 Karachi, April 28: Indian singer Kailash Kher and his Kailasa Band mesmerized his fans here last week with a fine rendition of Sufi and Punjabi folk, reports Dawn.
The report said, after setting the UK ablaze with a sweltering performance, the band landed in Karachi on the last leg of their tour.
The massive wait of two hours was a bit much for the sold-out crowd and it was around half an hour to midnight that Kailash came bounding onto the stage and without much ado jumpstarted the show with a blend of Sufi and Punjabi folk, Jana Jogi De Naal.
Winning the audience with his Minglish, he proceeded to Aawo Ji, a soft mellow number with a somber feel to it. The crowd momentum built up as he progressed through his well-thought out play list with a tribute to Karachiites for waiting for him with patience.
The tangible chemistry and musical synergy between Kailash and his band members was vividly visible as they fine-tuned their magic on the stage displaying impeccable connectivity.
Formed only eight years ago, Kailasa, with Paresh Kamath (lead guitar), Naresh Kamath (bass guitar), K. Peters and Samuel Shetty (drums), J.N. Gomes (violoin) and Sameer Chiplunkar (keyboards) has performed in 800 concerts and released four albums: Kailasa (2006), Jhoomo Re (2007), Chaandan Mein (2009) and Rangeele (2012).
With an excellent mix of songs ranging from sufi music, folk rock, fusion to filmi geet, Kailash showcased an exhilarating performance that is his trademark. Fearlessly treading into new vocal range, his penchant for showing variation and improvisation was at full throttle in Piya Ki Rung De Orhni and Janiya, where he cast his magic.
He then paid tribute to mothers with Maa Pyari Maa. Having lost his mother just three months ago, Kailash brought a mash up of emotions, sharing his feelings over his colossal loss with the audience.
Next up, Heeray Moti was both pleasing and majestic where he played inspirational melodic lines with convincing emotional range. The biggest audience pleaser, Tauba Tauba (a peppy, foot-tapping number with Pashto-Arabic feel to it), Ginn Ginn Taare and Tu Kya Jaane had the crowd in a state of absolute frenzy and with a tribute to Ustad Nustrat Fateh Ali Khan (Sanu Ek Pal Chayn Na aave) he reached the crest of his performance.
"We have our chunk of songs to perform and I know you guys have a list of requests, but Kailasa doesn't take requests, it rather gives them," said the singer and for performing Joban Chhulke, an upbeat folk number having a blend of all the local Indian languages, he invited some girls on stage. "Sirf larkiyan," he smiled, "larke nahin…larke tu bekar hote hain."
The mood remained ecstatic and upbeat throughout and after a few more hits such as Rangeele and Kaise Batain, the show ended on a high note. The event was organised by the Medical Aid Foundation and Yellow Butterfly with Hum TV as the media partner, and had a noble cause of raising funds for the cancer hospice Rahat Kada, says the Dawn report.