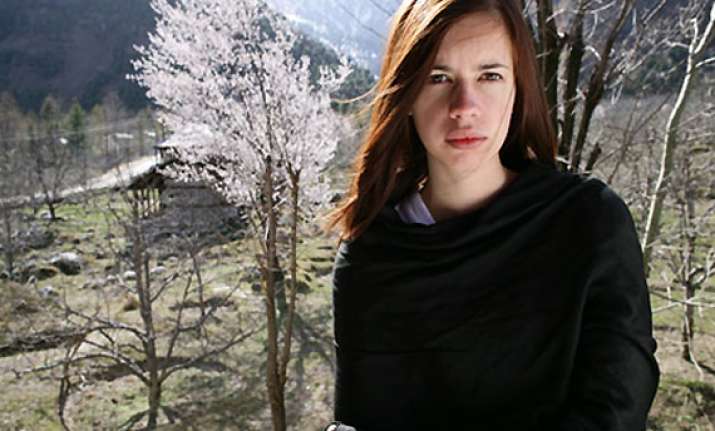 Mumbai, Aug 29: Known to make intense, hatke films, Bollywood's emerging fashion diva, Kalki Koechlin, speaks to TOI about her craft, life and impending honeymoon...

You have just got back from New York after the premiere of your film " That Girl in Yellow Boots" and now you're in Hyderabad. That's a pretty hectic schedule.

Ah! I feel so disoriented right now. I'm running around for my movie, plus I have been committed to my play for a long time. Of late, my itinerary reads - Chennai, Pune, Mumbai, New York, Hyderabad - all within a short span of time.

Is time management an issue for a newly-married girl like you?

Well, it's tough you know. Apart from my plays, I also have movie promotions. For example, I couldn't join the cast of "Zindagi Na Milegi Doobara" for a few days, because I was busy with my prior commitments to my plays. Somewhere, I have managed to balance it out. But I also believe that if you want to do something, you will always find time for that. Plus, there have been complete moments of 'nothingness' in my life where I had zilch to do. And then, there are days like this when everything seems to happen at the same time.

Is theatre still a priority?

I have to be as professional as I can about theatre as I am with films. Yes, I agree I haven't been able to give much time to the stage, but once I'm committed to it, I don't back out. For me theatre is very important. It brings you back to your roots as an actor. Every time I finish a film and get back to stage, I feel so small. It helps me become more open and bigger as an actor. It's kind of a training ground for me. I'm taking films very slowly. I'm not trying to be an overnight success or anything. Hence, I don't sign so many films. Theatre helps me fill the void between films. If I didn't have it, I would have signed some not-so-good films, because I would have been bored sitting at home doing nothing.

So, have you had those moments where you think you should be doing more films?

Not really, because I've always been busy enough. After "Dev D" there was a long gap, almost a year-and-a-half, where I didn't get any work. If I hadn't done the play "Skeleton Woman", which took up a whole year, I would have probably done any film that came my way. Fortunately for me, I didn't feel that pressure.

From no movies for one-and-ahalf year to three releases in 2011,is it too fast paced for you?

(Laughs) Yes, it is, to be honest. All these movies are releasing in one year. Probably, I'll have two years without a single release ! But I've been working on these films for the past year and a half and it's strange that all of them release one after the other - "Shaitan" , "Zindagi Na Milegi Dobaara" , "That Girl in Yellow Boots" and then "My Friend Pinto" . I wish they would spread out a little bit because I'm not well-equipped to handle all this media attention.

You've had two back-to-back hits with "Shaitan" and "Zindagi..."

The success of both came as a surprise to me. I knew "Zindagi..." would do well because it's a lighthearted film. But I didn't know it would turn out to be such a hit. I feared that it was a bit too upper middle class because it was set abroad. But the story is extremely Indian and the boys are so typical. That's what worked. "Shaitan" on the other hand, was a complete surprise for me. It's quite a dark subject. It's stylishly done and has a catchy soundtrack which makes it relevant and commercial too. At the end of it, it's an entertaining and thrilling film - not those slow placed, boring, arty types.

Your husband Anurag said that doing intense films with you takes a toll on your relationship .

Well, it's not like it saps me out or anything. But I wouldn't want to get repetitive with Anurag. We've done two intense films together - "Dev D" and "That Girl in Yellow Boots" . So the next time I work with him, I want to do something different. That's all I said to him.

But most of your films are intense, except "Zindagi..."

True. But for me, it's not about intense or lighthearted films. It is about the characters I play, which are starkly different from one another. Honestly, all these days have been too super hectic and I just wrapped up Dibakar Banerjee's "Shanghai" . Hopefully after my next release , I'll take a break. Anurag and I haven't been on a honeymoon yet. So maybe we can do that.