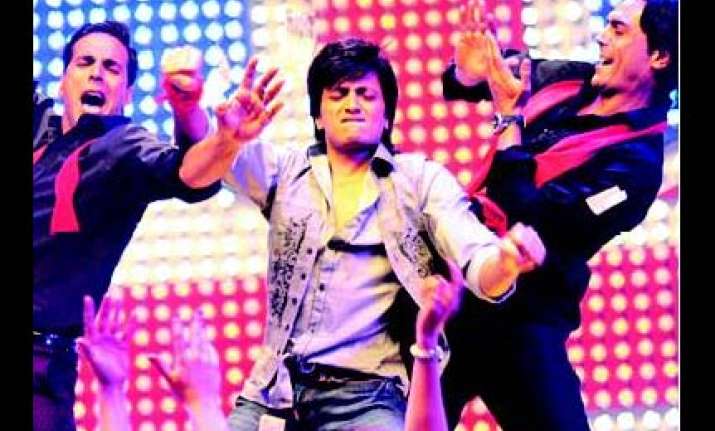 Sajid Nadiadwala's film Housefull will not be allowed a worldwide television premiere if lines lifted from a hit song Apni Toh Jaise Taise of the 1981 Amitabh starrer,Laawaris,are not sliced out, says a media report.
A High Court ruling passed Friday evening in Kolkata has ruled that the film cannot be premiere on national television on Sunday,August 29,if lines from the remixed version of the song Apni Toh Jaise Taise are not deleted from the film.
The original version of the song in question is from Prakash Mehras Amitabh Bachchan blockbuster Laawaris.
Confirming the same,(late) Prakash Mehra's son Punit Mehra said, "Yes.This is true.The matter is still subjudice.The film cannot be aired on national television,with the infringed copyright material in question or else it will amount to contempt of court." This leaves only one day  for those concerned to alter the song,or snip it off altogether on the editing table.
When contacted,Sajid Nadiadwala,the producer of Housefull,said, "Yeah.I have heard about the Kolkata High Court ruling.But once the film was released theatrically, which was done peacefully and successfully in March,it became the property of Eros International, which owns the world satellite rights of the film. Eros International will now decide what to do."
 Apaprently,when Housefull released,a court ruling that time made it clear that excess prints of the film will not be allowed for release until the matter is resolved.
When Prakash Mehra's family learnt that a television premiere was being planned for August 29, they approached the court once again.
A source said,Now,one can watch out for the first week of September,when the verdict will clarify on who actually owns the rights of the song Apni Toh Jaise Taise.
Sunil Lulla,Managing Director of Eros International (India),seemed unperturbed through all this. He said, the lines in question will be clipped. But Housefull will have a television premiere this Sunday.
When Puneet Mehra objected to his fathers song in Housefull early this year,the makers of the film claimed they had bought the rights of the song from the music label Sa Re Ga Ma,which had released the Laawaris soundtrack in 1981.
Puneet then moved court alleging Sa Re Ga Ma had flouted copyright norms by allowing Nadiadwala to use this song.
However,Nadiadwala went into appeal.A division bench of the High Court court granted permission for the release of the film