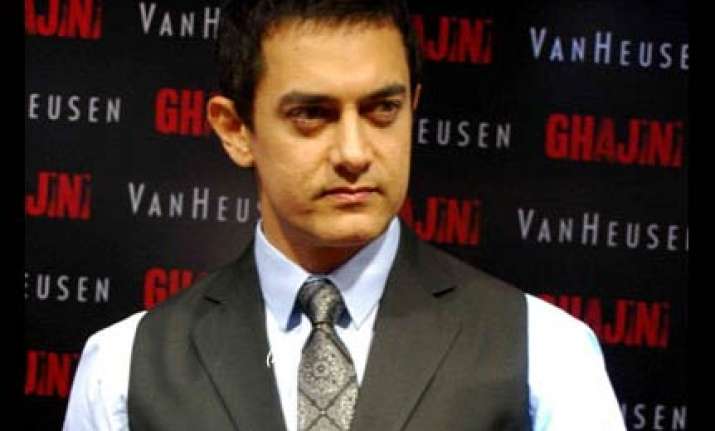 Mumbai: Actor-filmmaker Aamir Khan says high expectations from his fans make him humble. Addressing media-persons after the DVD launch of his last release '3 Idiots' here today, Aamir said he was moved and touched that his work was being appreciated. "I consider myself lucky to have worked with good directors and a creative team," he said.  
"Team work is important and I am part of the team. The success is not just mine alone," he added. Asked why he shunned awards functions, where the film swept all categories, Aamir said his views on the issue were well known. "The biggest award is the audience appreciation and I think this film (3 Idiots) got it in abundance," he said.  
The actor said he was emotionally attached to all his movies whether they did good business or flopped and whether they were good or bad films. "After each film is completed, I take home the clapboards," he added. Asked how different he was from his on screen character Rancho, Aamir said he did not have Rancho's scientific mind.  
"Rancho loves electronic gadgets and these machines don't like Aamir Khan. I can't even handle the air-conditioner or run a DVD at home," he said. Aamir said he would have loved to present the '3 Idiots' DVD to his favourite directors late Guru Dutt, Mehboob, Raj Kapoor.  
"There are very few films that audience would like to own and '3 idiots' is one of them. I was with Nita and Mukesh (RIL chairman Mukesh Ambani and his wife Nita) recently where Nita told me that Mukesh loves to watch the film every evening after returning from work and she always asks him as to how long is he going to continue watching it," Aamir said.  
"It has been a privilege and honour to be part of a film that has touched people's lives so closely and I thank Raju Hirani for convincing me to do the role because I was scared of playing a student," he said. PTI