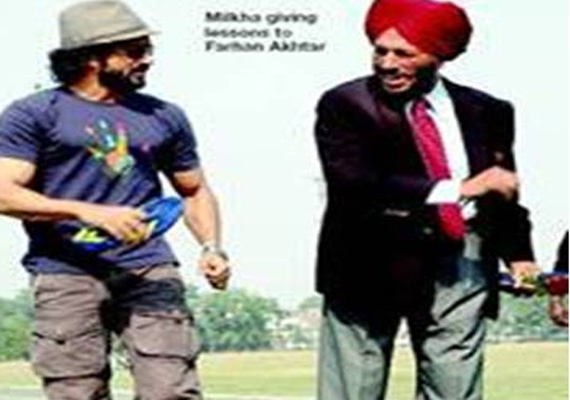 Chandigarh, Feb 23:  Flying Sikh Milkha Singh on Tuesday afternoon became emotional when he went to a college racing track with Farhan Akhtar and director Rakeysh Omprakash Mehra for the film Bhaag Milkha Bhaag.

Farhan Akhtar  and  Rakeysh Omprakash Mehra were in Chandigarh to meet Milkha Singh.And it took him no time to take valuable tips from the legendary athlete.

They went to a college racing track and discussed the nitty-gritty details of the sport.Farhan was clear about it as he wanted to see Milkha's running style, said a source.

On the track, Milkha explained Farhan the technicalities for quite some time.

Later on,Milkha even turned emotional as the tracks reminded him of his glorious days.  "Farhan is an amazing actor.I like the way he's inquisitive about things. He keeps asking till all his doubts are over", said Milkha.

Holding on to his running shoes,Farhan said,  "It's on his life so I cant falter on things. That's why I want to be sure of everything before the shoot begins."

 Milkha asked Farhan to come in proper running gear next time so that he can have a practical experience.