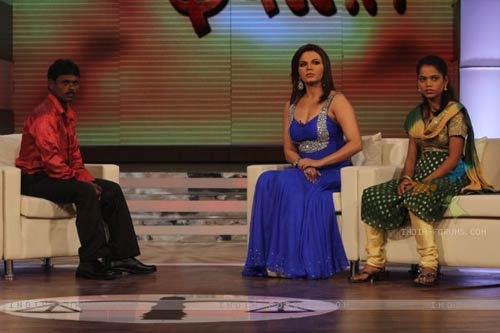 Lucknow, Nov 12 : An FIR has been lodged with the Jhansi police against TV star Rakhi Sawant and three others in connection with the death of a youth allegedly of acute depression after participating in a reality TV show 'Rakhi Ka Insaaf".
"FIR under sections 504 (insult intended to promote breach of peace), 306 (abetment of suicide) and 120 (cheating) IPC has been registered at Prem Nagar police station of Jhansi on the complaint of the mother of the deceased Laxman", ADG (Law and Order) Brij Lal told newspersons here.
 As per the complaint by the mother, Savitri Devi, a local scribe Raunak Ali and two others (Satish Misra and Anju Sandhya) contacted Laxman to participate in the show for resolving his marital dispute with Anita whom he had married in February this year, the ADG said.
"We reached the Goregaon studio in Mumbai on October 13 where Anita, her parents and another person were already present and during the programme Rakhi publicly humiliated Laxman, shouted at him and termed him as impotent", the mother said in the complaint.
"Ever since the programme was aired on October 23, Laxman developed a fright of facing relatives, friends and others and stopped eating. He also did not sleep and whenver he was asked to eat he used to say that Rakhi Sawant has spoilt my life and that he had no desire to live", the woman has charged in her complaint.
The mother also alleged that when he was admitted to Jhansi medical college hospital, it was said that he had mental tension.
The woman claimed that before going to the programme her son was healthy but due to the humiliation faced by him in the programme he developed mental stress and died, Brij Lal said.
The ADG said the video of the programme would be seen to ensure whether the language used by the host was undignified and indecent and after proper investigation action would be taken on the basis of evidences.  PTI