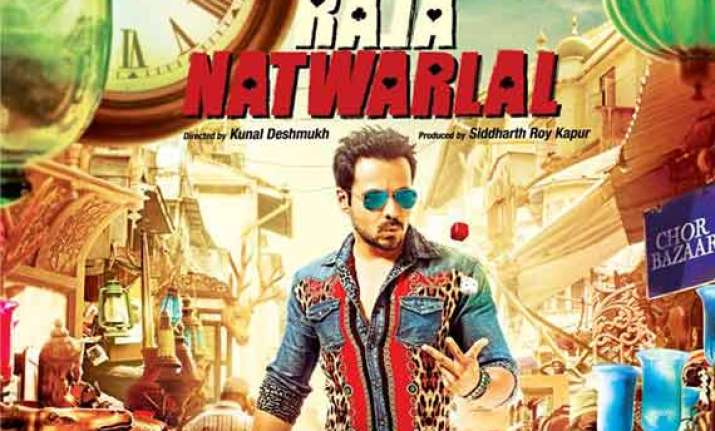 New Delhi: Emraan Hashmi, the actor with a serious image of a serial kisser on screen has got a kink in his usual image.
In his Kunal Deshmukh's upcoming, 'Raja Natwarlal,' the actor is playing a conman and with his growing acting prowess, Emraan is sure to do wonders with his novel image. 
In his new film Emraan can be seen with his witty expressions playing with the money. Though, in 'Jannat' too, the actor has donned a cunning, witty character, this time the role is officially bestowed with all cleverness and smart mind.
The `serial-kisser` is again delivering what he is best at - romance mixed with a grey-shades in his character. The movie is also eagerly awaited as it welcomes the Pakistani beauty Humaima Malik to Bollywood.
So we bring to you the top five reasons why you should watch 'Raja Natwarlal' this friday. 
1. Emraan Hashmi as gunda-
Last seen in the 2013 suspense comedy flick, Ghanchakkar, Emraan Hashmi failed to strike a chord with his comic avatar.
In his next, Raja Natwarlal, his character is along the same lines as we have always loved him on screen – a bindaas guy. Emraan plays a conman in the crime comedy drama, and will be seen as a carefree, colourful and rugged man.
 He has also shaken a leg with his leading lady in the flick – which is not a very common sight. We love Emraan in typical 'tapoori' style. 
2. Pakistani sexy siren Humaima Malick as the leading lady
-The film's leading lady, Humaima Malick, is a Pakistani actress and model, who began her acting career with Pakistani serials before lapping up this Bollywood project.
The gorgeous girl is a marvel to behold and looks super hot and sexy in the film's promos. We are sure till now she had made many fans in India too who will be waiting to see her on silver screen. 
3. Emraan Hashmi & Humaima Malick's sizzling chemistry
- Going by the trailer and song promos of Raja Natwarlal, the film's leading couple, Emraan Hashmi and Humaima Malick, look sizzling-hot together.
The hourglass-figure-hottie Humaima and the raw Emraan came  across as a delectable pair. Also, buzz has it that Hashmi and Malick have locked lips and given some steamy scenes in the flick!
The heat is surely on! His chemistry with Humaima Malik has soared the temperatures already. Many are looking forward to see how they far together that includes us. 
4. Paresh Rawal as a conman
- After a long time, we will be watching the veteran performer, Paresh Rawal, not in a comic role. He plays a conman in Raja Natwarlal.
No doubt, we love his comic timings and dialogue delivery, but it's been long due to relish his fine acting chops as a baddie.
 We are sure Paresh would have many things to serve his audience with his commendable acting skills. 
5.  Emraan Hashmi Back with Kunal Deshmukh
- Whenever these two people have came together, they have ruled the box office.
 Emraan Hashmi has given two of his career's most successful films, Jannat (2008) and its sequel Jannat 2 (2012), which were helmed by ace director, Kunal Deshmukh.
The duo is back and how! Kunal has directed Emraan in Raja Natwarlal, and looks like, the combination is all set to burn the silver screens yet again.
There is no second thought that after the huge success of Jannat and Jannat2, expectations from Raja Natwarlal are sky high.