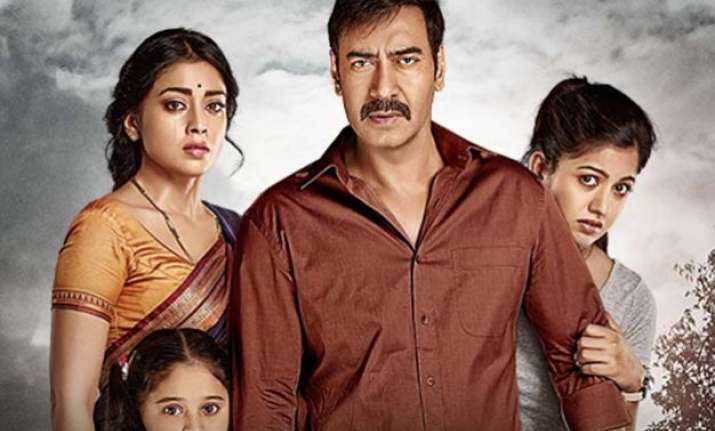 Film: Drishyam
Language: Hindi
Cast: Ajay Devgn, Tabu, Shriya Saran, Ishita Dutta, Mrinal Jadhav, Rajat Kapoor and Kamlesh Sawant
Director: Nishikant Kamat
Rating: ***
Drishyam is the Hindi remake of Jeetu Joseph's original Malyalam thriller of the same name. It has been remade in three other languages, the latest being the Ajay Devgn starrer. The original Mohan lal starrer is said to have borrowed its central idea from Japanese thriller 'The Devotion of Suspect.'
The story of the film revolves around a man who goes to any length to protect his family. Vijay (Ajay Devgn) a semi-literate, film crazy cable tv business man leads a simplistic life with his family in a picturesque town in Goa.
All hell breaks loose when Vijay's elder daughter Anju (Ishita Dutta) gets filmed while taking a bath by Sam, a fellow student on a school trip. Sam blackmails Anju for some sexual favours but Anju's mom Nandini (Shreya Saran)  intervenes and pleads  him to destroy the recordings, in between this an accident happens and Sam dies. He turns out to be the son of top cop Meera Deshmukh (Tabu).
Vijay takes it upon himself to put things in order. While taking his clues from films, he devises a foolproof plan to outwit the Police department. He works ceaselssly to get rid of every last bit of evidence connecting the family with the accident. What follows next is a gripping cop versus thief drama.
The second half of the film is far more engaging than the lacklustre first half especially the initial 45 minutes that was wasted only to narrate Vijay as a common do-gooder. Those who haven't seen the original would certainly find the film riveting.
Director Nishikant Kamat does a fine job as long as he sticks to the original story barring a few miniscule but unnecessary changes. Certain flaws cannot be ignored, the film could have been much better without its atrocious humour and unidirectional treatment of story.
Avinash Arun's camera work deserves applause for his efficent use of wide angle lenses to capture the scenic landscapes of Goa.
Vishal Bhardwaj's music is fine with a noteworthy mention of Rahat and Rekha's melancholic number 'Dum Ghutta hai' but background score was less coherent and more noisy.
The film was supposed to see the return of Ajay Devgn, the brooding actor but his intensity has perhaps been lost in his muscles. He comes nowhere close to Mohan Lal's far more subtle and nuanced performance in the original thriller. Tabu's performance as a no nonsense cop and grieving mother is top-notch; She strikes the right cord between her conflicting emotions, a far cry from Devgn's wooden acting.  Rajat Kapoor convincingly portrayed the character of an anxious and grieving father.
The film has the right script that will keep the audience on the edge of their seats. Viewers will connect and perhaps sympathise with a common man who does the right thing under given circumstances becoming a victim of police excesses.