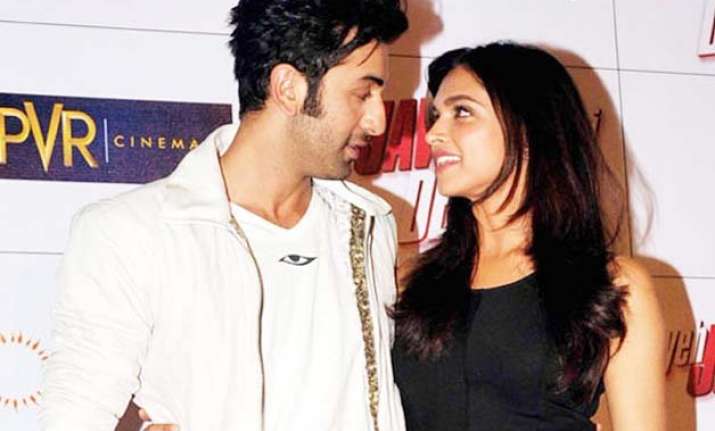 New Delhi: Deepika Padukone is one such diva who is never afraid of speaking her mind, so when she advised her colleague Katrina Kaif on avoiding a marriage with Ranbir Kapoor it was a shocker for some!
Yesterday media reports were doing rounds about how Deepika was suddenly all up & open about Ranbir-Katrina, even to the extent of recommending latter not to marry Ranbir Kapoor.
Satiating gossipmongers, Deepika Padukone today surprised again saying, "If I were Katrina Kaif, I would marry Ranbir Kapoor".
Yes, during 'behind the scenes' shooting at an award function, Deepika gave the aforementioned piece of advice to Katrina; her desire for Ranbir in the latest statement is surely a big twist in the story.
When Deepika was asked about what would be her New Year resolution, if she was Katrina Kaif? The actress was quick to reply saying, "I would marry Ranbir Kapoor."
Well, we wonder if this is any kind of strategy by the long-legged actress in order to get back Ranbir Kapoor, despite the fact that she is dating Ranveer Singh at present. Or is she just speaking everything out in all good humour?
Whatever, it be, we are quite confused with both of her dissimilar statements. A leading daily had also cleared the air about her previous remark where she advised Katrina Kaif not to marry Ranbir Kapoor, saying it was being misquoted by few other dailies; news which they them self published went viral clearly making all believe the same.
On the other hand, the latest statement by the 'Ram Leela' actress is considered to be the real one.
Deepika who is alleged to be dating Ranveer Singh previously was is relationship with Ranbir Kapoor and even after their break-up the two continued to share screen space together. Their next venture is Imtiaz Ali's 'Tamasha' which is in its pre-production stage.
However, this has hardly affected Ranbir-Katrina's relationship and we believe that Deepika's interference also won't make any difference.
Ranbir and Katrina are closer than any other B'town couple seen in recent times. Their newly rented house at Carter road makes it more evident that the two are quite serious in their relationship, while their marriage rumours are too adding more substance to their unharmed bond.