Follow us on New Delhi: It was Christmas and the contestants woke up to a beautiful day filled with carols, bright festive lights, beautiful snowfall in the garden and gifts from Bigg Boss.
As the day progressed, Bigg Boss announced the Secret Santa task to extend the essence of the festival.
Each member was asked to pick a chit, which had  the name of another housemate to whom they would be a Secret Santa to and gift them an item of personal belonging as a Christmas present and give a reason for gifting that particular item.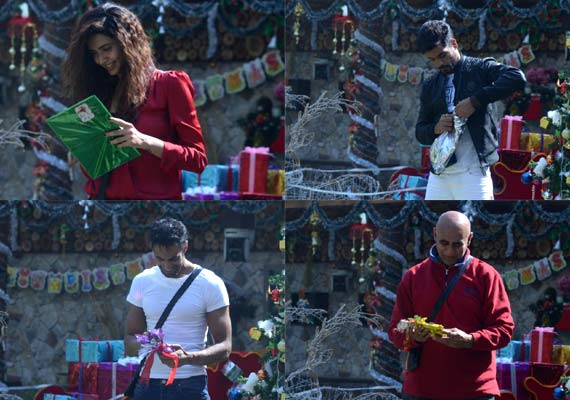 All housemates picked a chit and started contemplating as to what would be a deserving gift for the recipient.
Sonali kick-started the gift exchange session and unwrapped her gift with enthusiasm. She found a leather jacket gifted by Gautam and thanked him for the thoughtful present.
Also read:  Bigg Boss 8, Day 94: Gautam and Dimpy turn journalists, grill housemates (see pics)
Gautam told her that he was motivated to gift the jacket to her 'coz she likes leather jackets and the one she possessed got worn out. Karishma and others praise Gautam for the gesture.
All in all the Secret Santa task ended on a good note as the housemates warmed up each other and put their differences at the back burner for a nice change.
In the afternoon, BB summoned all the inmates for the judgment task. Sonali was asked to choose one contestant who has performed well in the luxury budget task – Bhavishyawani.
Sonali picked Dimpy for the reward. To everyone's surprise, the ball falls in Dimpy's court as BB told her to choose one person who she wanted to be punished.
Dimpy selects Gautam and reasons that he deserved to be punished for being a rule breaker. To punish Gautam, BB appointed him as Dimpy's personal attendant for a few hours.
Also read: Bigg Boss 8, Day 93: Romance blossoms between Karishma-Gautam (see pics)
Later, a task called Bigg Boss Got Talent Show was announced by BB and all the housemates were allotted different acts to entertain the special guests for the evening.
Gautam, Upen and Sonali were made to prepare a dance act whereas Pritam and Ali were assigned a task of presenting a stand-up comedy act.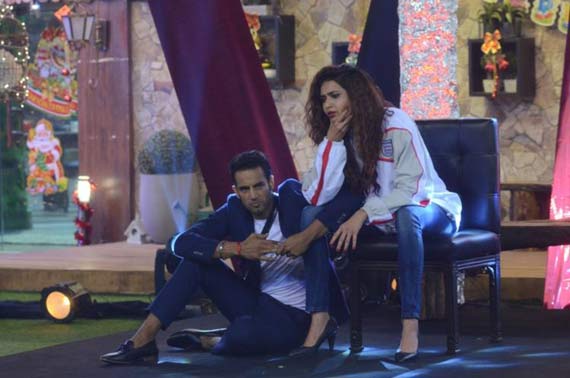 Dimpy, Puneet and Ali were given the job of reciting shayari composed on their own. And last but not the least, Karishma and Upen were allocated the task of presenting a conversation imitating Puneet and Gautam.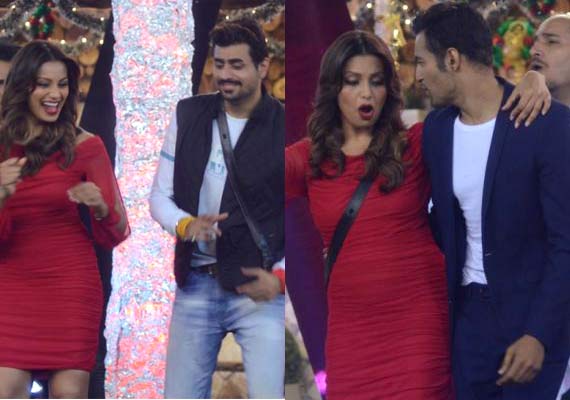 As the housemates got working to prepare their stage acts, a tussle between Sonali and Karishma ruined the fun. As Sonali took a short break while trying to match dance moves with Upen, Karishma joined him to perform a few steps with the intention to set the ground for Sonali.
However, this did not go down well with Sonali as she went away boycotting the rehearsal. Karishma and Ali tried hard to clear Sonali's misunderstanding but she did not give any hoot to them. Upen, however, let Sonali be and showed least concern for her childish tantrum.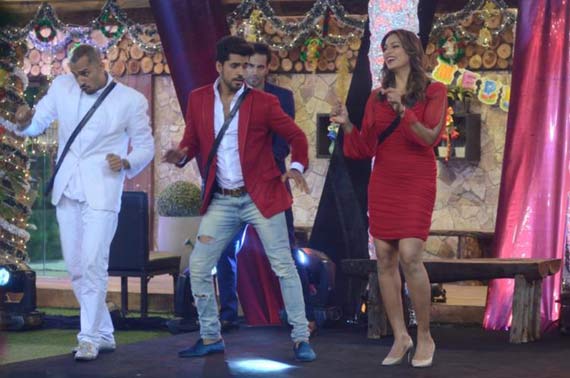 In the evening, actors Bipasha Basu and Karan Singh Grover entered the BB house to promote their upcoming film 'Alone' and got a warm welcome from the housemates.
They got seated in the garden area to watch the stage acts prepared by the inmates.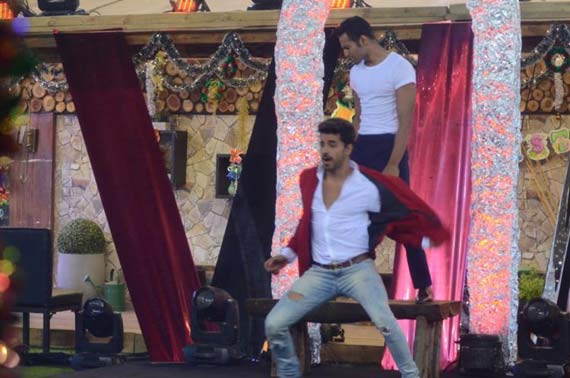 Gautam took charge as the host to present BB Got Talent show and one after another the guests for the evening got to enjoy enthralling and funny performances put together by the 4 groups.
The engaging performances entertained and enthralled the guests, making it a Christmas to remember for all.