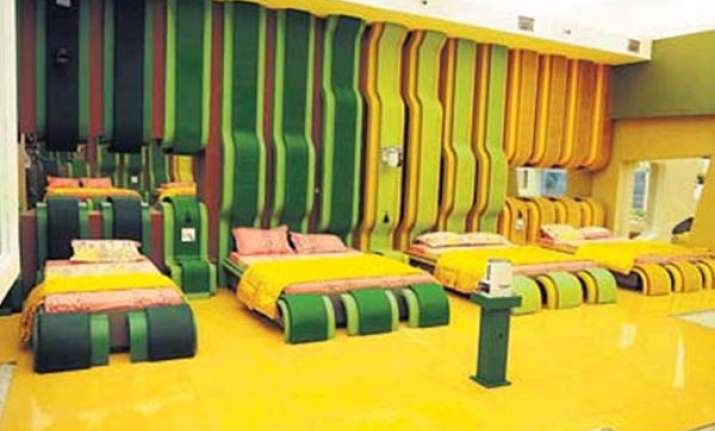 Salman Khan-hosted Bigg Boss's female and male inmates will share a lot of things including beds and bathrooms. It will have one bedroom common for all the 14 contestants.
According to a media report, Salman Khan Bigg Boss 4 will be a longer season than the previous three. The show will now run over 96 days instead of the usual 84 days.  
The House is spread a cross approximately 4000 sq feet.But this one doesn't have too many enclosures. It's an almost wall-less House.  There's an open kitchen and a store room.
A jacuzzi, a tiny gym area, a unisex bedroom with double beds and an elevated quarter for the head of the House who will change every week.
There are also two unisex bathrooms and washrooms with microphones and cameras fitted in. Plus, a swimming pool, two activity are as, a tiny smoking zone and a barbeque corner. There's no jail in the House this time.Room for more Instead of 40 cameras, there will be 50 cameras, including PTZs and gully cameras, keeping tabs on inmates, 24X7.
There will be only one single bed while all the others will be double beds.  Also, there will be only two common bathrooms and toilets for both the male and female participants.
The flight of stairs leading up to it will only open up only when the Bigg Boss wishes.                 
Whenever an inmate enters, instead of a discreet electronic bell, he or she will have to ring a big metal gong that will be heard through the House. 
 This year there are no graphics on the walls. But there's an exceptional use of solid colours. Production logistics haven't changed much, with story edit or still working three shifts.
Sandip Vinayak Prabhu, the Bigg Boss voice, will be on duty from October 3, and promises to keep the inmates on their toes.This is a major change from the previous seasons that had separate sleeping and bathroom areas for the men and women.
According to the channel, "This has got more compact, leaving just enough space for each inmate to keep a close eye on the others."
The gym area has also been tweaked in size this time considering that it has shifted from the outdoors to the indoors. It is like an extension of the living room and there is also a jacuzzi.
The confession room will see a huge change this time in more ways than one, as Bigg Boss has decided to be accessible to the inmates only when he wants to. The hydraulic entry and the flight of stairs leading to the confession room will open up only when Bigg Boss wishes so. The outdoor expanse has the special wave pool.