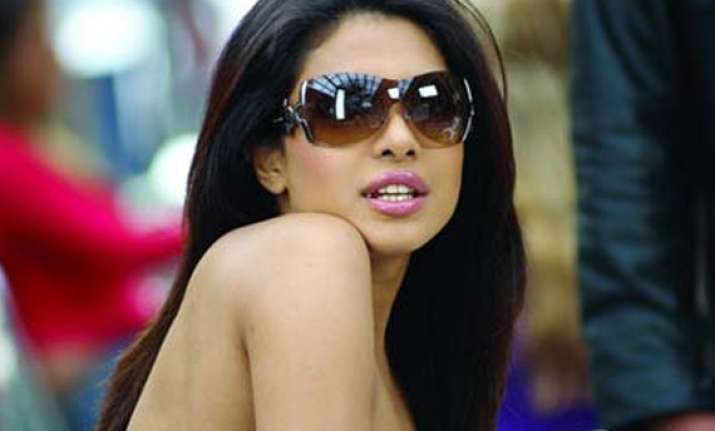 New Delhi, Jun 17: Priyanka Chopra, who will be seen essaying three roles from different eras in "Teri Meri Kahaani", says portraying the character of Aradhana from 1910 was a challenge.
The 29-year-old actress said there was no reference point for the character in the Kunal Kohli-directed film except some books and sketches. 
"It was tough for me to play Aradhana because there was no reference point for it except some books. Kunal managed to get some sketches of the women from that time and Manish Malhotra designed my costumes by looking at those pictures.  "I play a Punjabi girl from Pakistan and I had to develop a typical accent by reading those books," said Priyanka during the promotion of the film here. 
The actress has teamed up with "Kaminey" co-star Shahid Kapoor after a gap of three years and the chemistry between the two has again become the talk of the town. Priyanka admitted Shahid is her best co-star. 
"I feel, Shahid is the best co-star to work with. It's the second time we are working together and it feels great to work with him again," she said. 
The film, to be released on June 22, is a love story set in three different eras. The first saga unfolds in Lahore in 1910 where Priyanka plays a Aradhana in love with a Muslim boy Javed, played by Shahid. 
In the 1960 story, Shahid plays a struggling music director in Mumbai who falls in love with a successful actress. In 2012, they again fall in love as Radha and Krish, this time in England. 
Priyanka has worked with "Hum Tum" helmer Kunal for the first time and she says she always wanted to work with him after watching his love stories. 
"Kunal and I always wanted to work with each other. He had come to me with scripts earlier but I could not do them as I had other commitments. The best thing about him is that he believes in his characters and knows how to extract the best out of actors. There is always a pleasant atmosphere on the sets whenever he is around," she added.