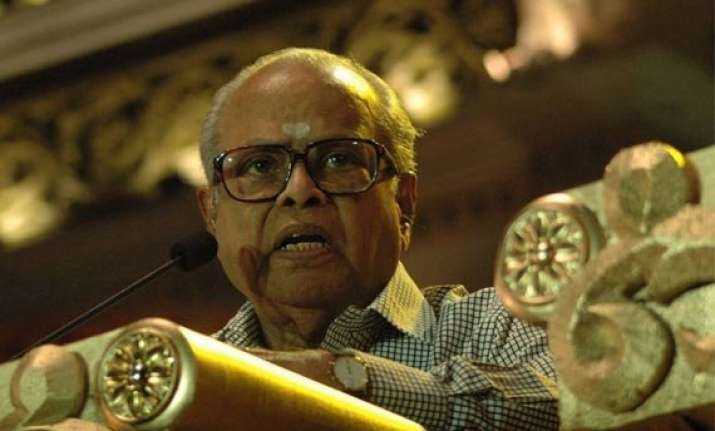 Chennai: There will never be a replacement for prolific Tamil filmmaker K. Balachander, said grief-stricken members of the Tamil film fraternity here, following the auteur's death. He was 84.
Balachander passed away due to prolonged illness at a private hospital here Tuesday, leaving scores of fans and fraternity members bereaved.
Actress Jayaprada, who worked with him in five films, said he was an "institution".
"For actors who were launched by KB sir, he was our institution. He taught us everything about acting. He's given life to over 50 wonderful actors and I think all of us will always be indebted to him our entire lives," Jayaprada told IANS.
She further added that Balachander is "irreplaceable" and it's "tragic" to have lost a visionary filmmaker.
Jayaprada and Balachander worked in memorable films such as "47 Natkal", "Anthuleni Katha", and aceNinaithale Inikkum"
Veteran filmmaker K. Vishwanath wished he'd assisted Balachander in direction.
"I have immense respect for Balachander. He was a good friend and I always admired his work. There were only two people I really wished to assist in direction. One was Telugu filmmaker Bapu and the other was Balachander," Vishwanath told IANS.
"It's very unfortunate that both of them have passed away within a span of few months. There may be several filmmakers who can make films like Balachander, but nobody can replace him," he said.
Playback singer S.P. Balasubrahmanyam said Balachander deserves to be celebrated worldwide.
"I think he's one of the best filmmakers in the world. I've had the privilege of singing most of the songs in his films," Balasubrahmanyam said.
"When I recently met him at his granddaughter's wedding reception, he requested me to stay back and spend sometime with him. Those few hours with him were priceless," he added.
From superstar Rajinikanth to DMK chief M. Karunanidhi, actor-turned-politician Vijayakanth to actors such as Vijay, Vikram, Arjun, Sathyaraj, Sarath Kumar, Khushbu, Prakash Raj, Sripriya, Manorama, Srikanth, Sivakumar, Dhanush, Visu, Mohan, T. Rajendar paid their tributes to the filmmaker.
Thousands queued up at the residence of the filmmaker, where his body was kept for the people to pay their last respects.
Balachander's funeral procession, which began at around 2 p.m. in a flower-bedecked vehicle from his residence, ended at the Besant Nagar crematorium around 6 p.m.