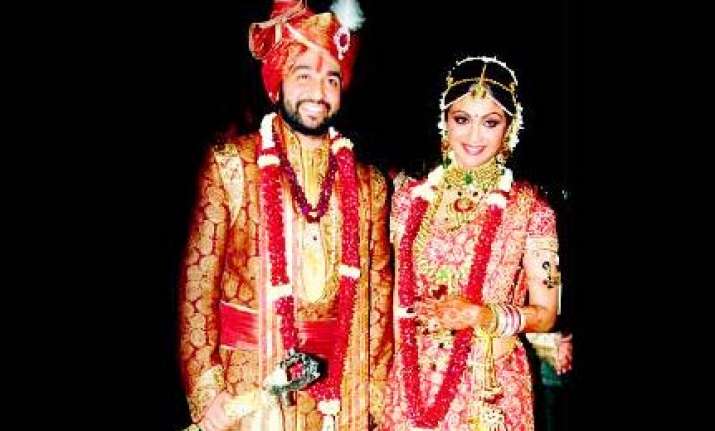 Bollywood star Shilpa Shetty had never dreamed that the brass band at her wedding in Khandala would begin playing love tunes from hit films she had done with former boyfriend Akshay Kumar.
Accordingly to a media report, Shilpa did not invite Akshay Kumar to her wedding on Sunday at Lonavla, but the brass band, which was invited to play just a few minutes before her pheras, had certainly not forgotten her earlier close association with Akshay.
At around 3 pm, the bandwallahs started some popular Bollywood music by first playing a song from the Akshay Kumar-Shilpa Shetty starrer Dhadkan outside Kiran Bawa's bungalow, which was the wedding venue.
 They had hardly played for a minute, when a few people (obviously instructed by the Shetty and Kundra family) came running out of the bungalow and asked them to immediately stop the band music. 
The band members were shocked and were wondering what went wrong. They looked quizzically at the people who were ordering them to stop the music of Dhadkan but all that they got in return were harsh glares. At this point they were categorically told, 'Akshay ki film ka gaana mat bajao', the media report says. 
After that, the band members were sternly instructed by those who had told them to stop the music, to stand aside and not play until further orders. They were also told that they would have to thereafter run the list of songs they would be playing all evening, past them. The dejected band stood aside just a few metres away. 
They started playing a fresh batch of songs only around 5 pm.