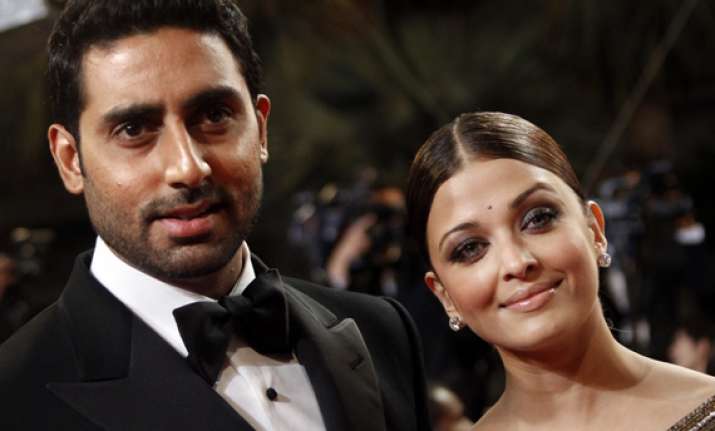 Mumbai, Dec 5: Bollywood actor Abhishek Bachchan can't hide his elation when speaking about  their newborn daughter, dubbed Beti B by the media.

In an interview to  a daily, Abhishek said: "Aishwarya and I had shortlisted some names but we didnt know whether we would be having a boy or girl and we didnt want to find out either.We liked the idea of the gender of our child being a suprise.What Aishwarya and I were very keen about is that the name is unanimously liked by the whole family so we are in the process of deciding that."

Asked about his experience on being a father, he said:

"I really cant describe the experience... the emotions that overwhelm me every time I hold my baby... Its very sweet that men get a lot of credit for it,but they actually dont have to do much.The joy and happiness it gives you or the emotions you go through when you hold your child in your arms for the first time are indescribable! I really thought that there was going to  be this moment when a ray of light from heaven would come pouring in,background music would start playing with angels singing but none of that happens ! (laughs)"

Asked about reports that he and  Aishwarya were offered  millions of dollars to publish the  baby's first picture, Abhishek said: "I have read reports that we have sold the rights of my daughter's photos for a huge amount,but that's not something we would be interested in. It's too personal a thing."

Asked whether he would feel more responsible now that  he was a  father, Abhishek replied:

"I was always a responsible person.Just because I am always fun-loving and cheerful doesnt mean I am not responsible.I have always been very responsible towards myself,my family,loved ones and most importantly,to my fans.I dont think that will ever change.But if you are asking: have I become more responsible now Of course I have! You have a new life now which you want to take care of."

Abhishek was a bit vague about whom his daughter looked like.

"Its too early to tell. Give me a month and I should be able to tell you better. Right now,all of us would like to think she looks like Aishwarya. People have speculated about the colour of her eyes but its too soon to say anything as facial features of babies change with time."