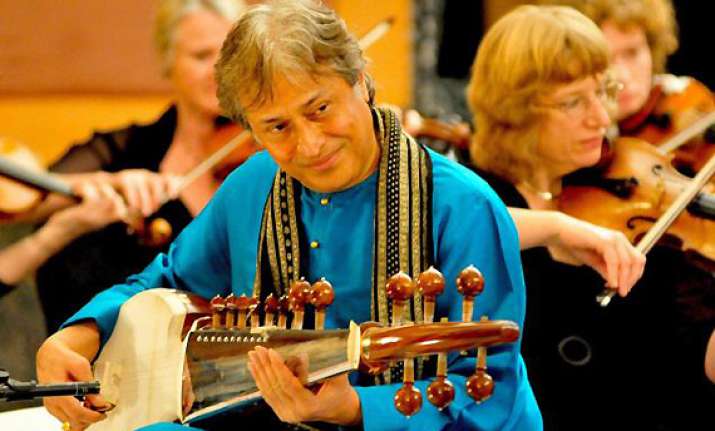 Bangalore, Jan 3: Having enthralled audiences with his unique style of playing the sarod with fingernails and composing many ragas of his own, music legend Ustad Amjad Ali Khan now nurses a desire to score film music.

"I am not against films or anything else but would like to score music for films if it suits my vision and creative taste," he told PTI in a telephonic interview from Dharwad, where he is on a visit to receive 2011 Mallikarjun Bheemarayappa Mansur award this evening.

The award, instituted by the Karnataka government, carries a cash prize of Rs one lakh and a citation.

Vocalist Kishori Amonkar, Pandit Jasraj and Dr Balamuralikrishna were the earlier recipients of the award.

Khan, who has captivated audiences at home and abroad, said he is happy many young filmmakers have approached him to score tunes for their films, but said modern fast paced songs lack melody.

"The songs today lack melody and the emphasis is more on racy item numbers. Old songs still appeal to today's generation as they are melodious," said Khan, who has also composed for the Hong Kong Philharmonic Orchestra.  He said the future of Indian classical music is bright.

"I have great hopes and expectations from the young classical musicians of today. The future of Indian classical music is bright."

There are many young talented Hindustani vocalists from Karnataka, where legends like Bhimsen Joshi, Kumara Gandharva, Mallikarjun Mansur and Gangubai Hangal were born, Khan said.  He said the younger generation of classical musicians are fortunate in having access to electronic gadgets, which were not available to yesteryear musicians.

"Today's young musicians are fortunate. They have the means to follow any gharana by watching CDs and DVDs. The earlier generation did not have access to recording, video players and other electronic gadgets," he added.  Khan, a Padma Vibhushan awardee, was only six when he gave his first sarod recital.

The sarod maestro reminded young hopefuls that there are no shortcuts to become an established classical musician and said the Guru-Shishya parampara (tradition) is the only way to achieve and understand classical music.

"To achieve something in life you have to surrender to your guru and work as a servant. Hence there are no shortcuts to become classical musicians. Guru-Shishya Parampara is the only way to establish oneself as a classical musician," Khan said.

Speaking about Mallikarjun Bheemarayappa Mansur and Gangubai Hangal, he said they belonged to different gharanas and both singers had different styles and nature.

"Mallikarjun Mansur and Gangubai Hangal represented Jaipur and Kirana gharanas, different from each other.. Every singer has a different style and nature and the two singers were simple and kind," Khan said.

Khan also cherishes his visits to Karnataka. "I have always looked forward to Karnataka because the audience here is appreciative and cultured. I have performed maximum number of times in Bangalore and Mysore. Now I look forward to performing in one of the shrines in Gulbarga," he said.

He said he felt honored to receive the award, as Mallikarjun Mansur was a great singer and gave a different dimension to singing.