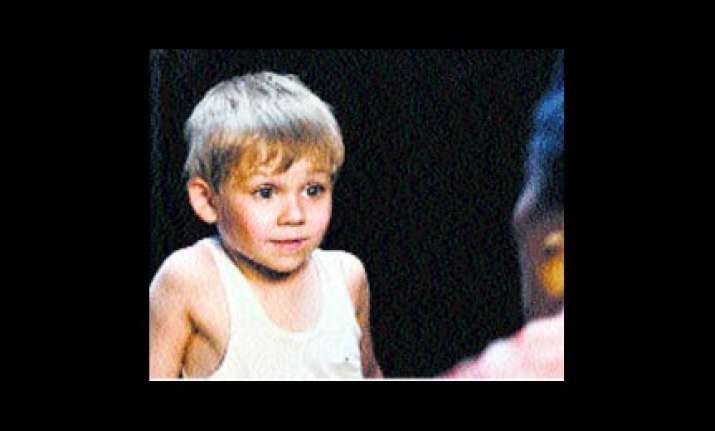 Mumbai, Nov 3: In a rarity for Marathi cinema, 'Mala Aai Vhhaychy!' has an American child artist playing a central character and speaking a local dialect of the language fluently.
Written, produced and directed by lawyer-turned-filmmaker Samuruoddhi Porey, 'Mala Aai Vhhaychy!' (I Want To Be A Mother) stars four-and-half-year-old Aiden Barkely, who barely speaks English, delivering his lines in fluent Marathi in 'Waradhi' dialect.
The little boy shares screen space with Marathi stars like Urmila Kanetkar, Sulabha Deshpande, Suchitra Bandekar and Vivek Raut in the film dealing with the issue of surrogacy.
The cast and crew recently completed a 15-day gruelling schedule in the interiors of Melghat-Chikaldhara belt of Amravati district in Vidarbha.
In the movie Aiden speaks in 'Waradhi' dialect fluently much to the surprise and amusement of the rest of the cast and crew.
Besides Aiden, the film also stars Adien's father Matt Rider and American actress Stacy Bee.
Talking to PTI, Samuruoddhi said even though she has been a practicing lawyer in Bombay High Court for the last 13 years, film making has always been her passion.
She said she had auditioned over 100 children but in vain. "Dejected that things were not going my way, I had even shortlisted a few kids as a compromise, till Adien came in as if he was 'god sent' for me," Samruddhi recalled.
According to Samuruoddhi, she wanted a blue eyed boy with golden hair and Adien fitted the bill. "He was an adorable baby and I saw him with his parents in a mall, I decided that I found my character. However, my crew and the boy's parents felt this was an impossible task," she said.
Samuruoddhi said Adien did not speak a word during the audition. "Since he is a small boy, he spoke little English. Infact, he told his father that he was not liking the cameras and wanted them to be shut off," she said.
"His parents agreed to allow him to work in my film and I would meet him every day and speak to him in the dialect of Marathi language spoken in the Melghat belt. I also kept a tutor for him", she said adding she realised in three months the child has started speaking Marathi.
Samuruoddhi recalled that Adien's parents later confided to her that the boy was a surrogate child himself and they had come to India this time for their second child through surrogacy. "After the second baby was born, they extended their stay here due to my shooting schedule," she said.
Samuruoddhi said Adien's parents are based in Washington DC and the father works as a counsellor for deaf and dumb children.
The filmmaker said before the shooting, Adien's father Matt said he did not want the crew to fondle and touch his son unnecessarily.
"He even made us sign an agreement. But, the little boy got so attached to every one, that the piece of agreement was of no use," she added.
Samuruoddhi said her film deals with how women from poor family background are exploited to bear children as surrogate mothers for money.
"My film depicts the surrogate mother's pain and anguish of keeping somebody else's child in her womb and give it away. Also, what happens to her when the actual mother rejects the new born," she said. PTI