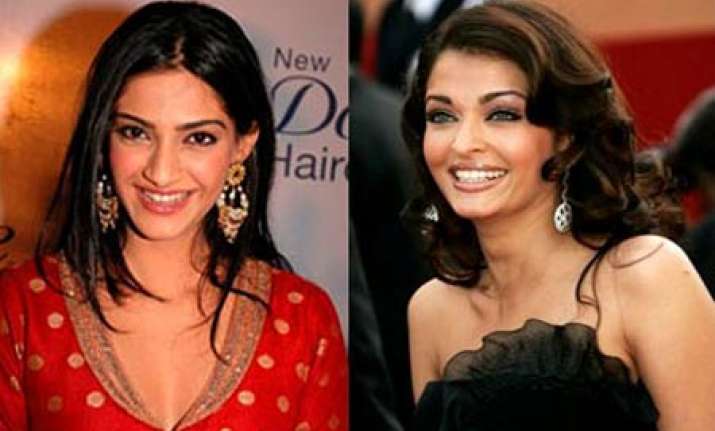 The war of the beauties started a couple of years ago when Sonam, then a newcomer, bagged a huge deal as the brand ambassador of a prestigious cosmetic brand.Aishwarya Rai Bachchan was the Indian brand ambassador of the international line till then.
As the media worked overtime in pointing out that Sonam had ' replaced' Aishwarya in the coveted campaign, the Bachchan camp was quick to claim that Sonam had bagged the deal only because Aishwarya had discontinued it.
Sonam had spoken at length about how thrilled she was at the prospect of being on the red carpet at Cannes as brand ambassador of the cosmetic line in question. But the next thing she knew was that she would not attend the event.
Reportedly, Aishwarya, who has been a regular at Cannes, didn't want ' competition' from any other Indian actress and used her influence to keep Sonam out of the gala.Things became worse later when Sonam, known for her outspoken ways, decided to hit back.
Asked if she was wary of competition from, among other rivals, Aishwarya, Sonam retorted: " Aishwarya Rai is an actress who used to work with my dad, so I should call her aunty, right?" Sonam later backtracked on the comment claiming she had been misquoted. But she has always reiterated that she is the younger face of the cosmetic brand in India.
Aishwarya had  maintained a dignified silence on the issue all along.The cold war between the two first thawed somewhat when they came face to face at
Karan Johar
's party last year. There, they just exchanged cordial greetings and moved on.
Insiders say Aishwarya's patch-up gesture has to do with the fact that her husband  Abhishek was to star with Sonam in Abbas- Mustan's film, Player . Top actresses, including
Katrina Kaif
and
Deepika Padukone
, rejected the film before Sonam finally signed it.
Given the fact that Abhishek's career seems headed nowhere as of now, and Player being a big film that could turn the tide for the actor, Aishwarya probably thought it would be wise to forgo the past.Player is an official Bollywood remake of The Italian Job, and marks Abbas- Mustan's foray into film production.
Naturally, a lot is at stake. Abhishek and Sonam were earlier seen together in the flop Delhi- 6.
The patch- up was initiated on Diwali when Aishwarya's father-in-law
Amitabh Bachchan
invited the Kapoor clan home for a Diwali party. Sonam and her family accepted the invitation. At the party, Sonam was seen spending a lot of time chatting with the Bachchan bahu , even as she gorged on the delicious spread.