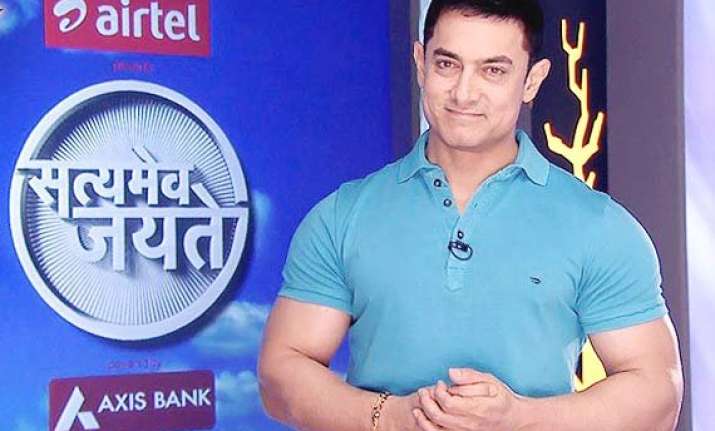 New Delhi: Satyamev Jayate Season 3 held on to the nerves of the audience. While the season was surprisingly a bit low on its high-teary-appeal, it did generate enough emotional blues.
Aamir Khan synchronized sports in the country with a way of channelizing ones livelihood in the first episode this season. And while the issue needed a celebrity mouth to be elaborated upon, the voice that had Aamir and Satyamev Jayate as its background definitely reached the audience.
Moreover, it was interesting to see that the show went a bit engaging with more of live examples being roped-in than AVs that used to capture most of the episode until the last season.
And when a person touches the subject like gender equality or other surreal issues, it becomes inevitable to speak out the word of mouth through those who have gone through such circumstances and overcome the fiery on their own.
Thus, when two female gold medalists from Haryana expressed how their father constantly supported them and asked them to do their best in the field of wrestling, the entire nation listened.
And why one would not, when a staunch father from a not-so-fashionable-ground tells his daughters to compete with men in wrestling and motivates them by saying that nothing is impossible for a woman when she can even be the PM of the country!  
Stories have always been strictly encouraging on Satyamev Jayate and this time too, the issue was highlighted with much simplicity and stroke. Sports not only as a medium of good well-being but also as a way of scooping out ones livelihood, Aamir Khan totally made sense of each word he uttered in the episode.
And this time, he was not the only one talking and molding his all cinematic expressions to deliver a bunch of emotional appeal. Rather, he was the one listening and making his audience listen to something he is paying attention to.
So, when we see the man of complete sagacity, Aamir Khan giving his attention to the words of someone who teaches football to the kids of sex-workers, we become obliged to do the same.
For the ones who missed it, here's a sure assurance that Satyamev Jayate feels far better sans Aamir Khan's constant sloppy tears that you would not find ruling at least in the first episode aired!
Also, watching Aamir Khan raising voice for making sports a part of curriculum in India, urging people to adopt sports and elaborating on how a 'Ball can change the world' is a sure meaningful treat to every sensible person.
Watching Satyamev Jayate this season won't hurt despite its long stretch of 90 minutes, Mumkin Hai!