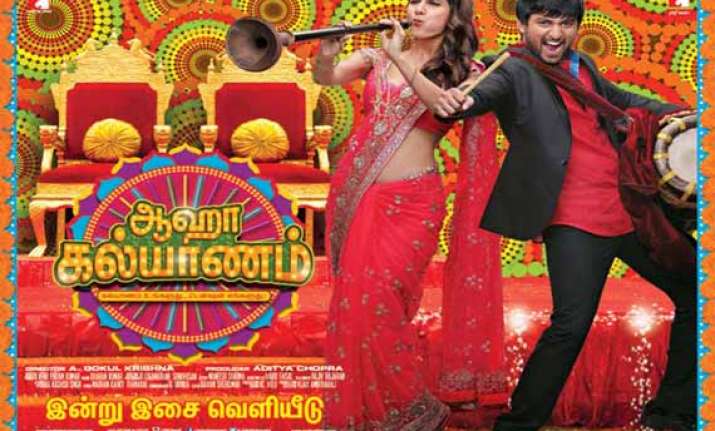 The music is passable, one song in particular stands out for bringing out more than 20 wedding cultures to perfection
Film:
"Aaha Kalyanam";
Cast
: Nani, Vaani Kapoor, Badava Gopi and Simran;
Director
: A. Gokul Krishna;
Rating: **1/2
"Aaha Kalyanam", the southern remake of Hindi entertainer "Band Baaja Baaraat", is a faithful attempt by debutant director A. Gokul Krishna. But the biggest problem with it is that it's a frame-to-frame copy of the original and that too sans creativity.
For all those who have watched the original, the film will turn out to be unsatisfying, while for the rest it's a decent one-time watch with humour that crackles at regular intervals. Despite solid performances by the lead cast, "Aaha Kalyanam" misses the soul of the original and that was to be embraced the most.
Sakthi (Nani) and Shruti (Vaani) are two fresh college graduates, who partner up to start a wedding planning venture. It turns out to be successful in a very short span of time. Having championed the art of the business with small-budget weddings, they move to the next level, where they have to lock horns with Chandrlekha (Simran), a prolific wedding planner in the industry. With honesty and dedication, they beat her hands down.