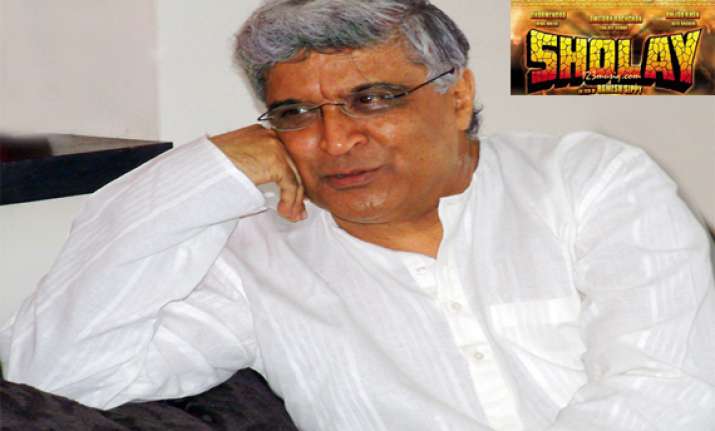 Indore, Apr 6:  Veteran lyricist and scriptwriter Javed Akhtar today said there was no need to remake 1975 Bollywood blockbuster 'Sholay' because it was the biggest and the most successful movie of its time.
"I am not against remake of movies, but I would not suggest the new generation to remake 'Sholay'.. It is the most popular movie of its time and even now," Akhtar told an audience after an interactive session here.
"Can anyone remake movies like 'Godfather' and 'Gandhi'," he asked.
"If someone really wants (to do remakes), then they should go for very old movies which were incomplete due to technical and financial reasons and if its story (fiction) is still relevant in the present times," he suggested.
On the proposed remake of Amitabh Bachchan-starrer 'Zanjeer' and royalty issues, Akhtar said we have not given the remake rights to anyone.
"The question of royalty does not arise unless rights are given of a particular movie," he said.
He said the graph of songs in Bollywood movies has seen a constant downward trend.
"But the truth is that there was no dearth of talent in Bollywood, but we need to know how they could be used for betterment," Akhtar said.
The 67-year-old songster said the music and film industry has grown tremendously and the "feudal attitude" was the talk of the past.
Bollywood has reached the "industrial age" and it was more of corporate now, he said but the common worker of the y industry still needs better service conditions like salary, provident fund,
guarantee, insurance and sense of security.  He said that free market economy, packages, and growing western culture has created a sort of hollowness in the society, Akhtar said.
Later interacting with media, Akhtar said the dispute between Army chief and Defence Ministry was not a good sign, and it hurt the nation.
"Like any nightmare, we will forget such bad things...  the Army would gain again its image and glory," he hoped.
On social activist Anna Hazare's anti-corruption drive and demand for Lokpal bill, Akhtar said his intention might be right, but the solution he wants through the Bill was not suitable as there were many laws to curb corruption.
On quota for Muslims, Akthar said, "giving quota privilege to minority would not be justified as there are many who backward—economically, educationally and socialally. 
"There should be a comprehensive policy plan development for all-round growth and prosperity of minorities, specially Muslims," he added.
He said his new book "Lawa" will be thought provoking.  This collection of "nazme/ghazal" written on various occasions in last 15 years have been included in the book dedicated to my best friend Farhan Mujeeb, he said.
Akthar said Dilip Kumar and Nutan were his favourite film actors. Akthar said when he was about ten, he wanted to be a hero like Dilipsaab. Later on he wanted to be a film director and desired to work as an assistant with Guru Dutt.But as destiny would have it,