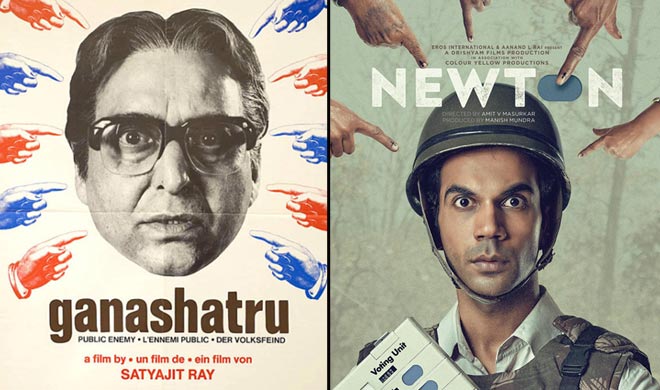 Hailed as one of the inspirational movies of the year, Newton has been gaining the spotlight for all the strange reasons. The film starring Rajkummar Rao, which was released on September 22 was alleged to be a copy of an Iranian movie Secret Ballot. However, Newton director Amit Masurkar and Secret Ballot producer Marco Mueller have rubbished such reports and said there's not even a hint of plagiarisation in the film. Now, now an entirely new thing has come to the forefront which can't be denied. The poster of Newton bears an uncanny resemblance to Satyajit Ray's Bengali film Ganashatru.
India's official entry to Oscars 2018 Newton has no similarity with Ganashatru in terms of plot and genre. However, the posters of these two films share a striking resemblance to each other. Is it a mere co-incidence or did the makers of Newton got inspired by the Satyajit Ray film?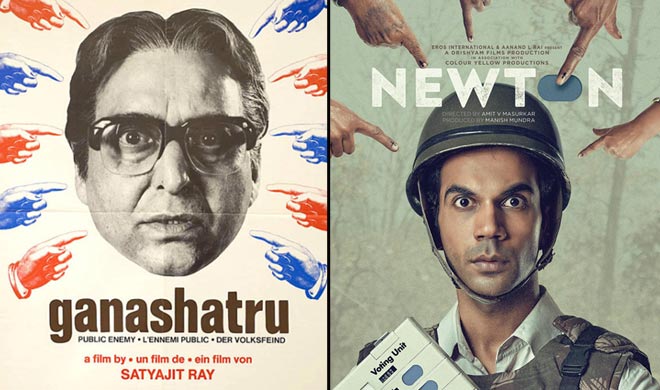 Newton featuring National Award-winning actor Rajkummar Rao revolves around a government employee who struggles to supervise voting in a forest area of Chhattisgarh, controlled by Maoists. The filmmaker spoke on the copy controversy and said, "The story was born from my heart. I had no idea about Secret Ballot."
The film also features Anjali Patil and Pankaj Tripathi in lead roles. Newton faced the box-office battle with Shraddha Kapoor's Haseena Parkar and Sanjay Dutt starrer Bhoomi.
For more entertainment news and updates, follow our Facebook page