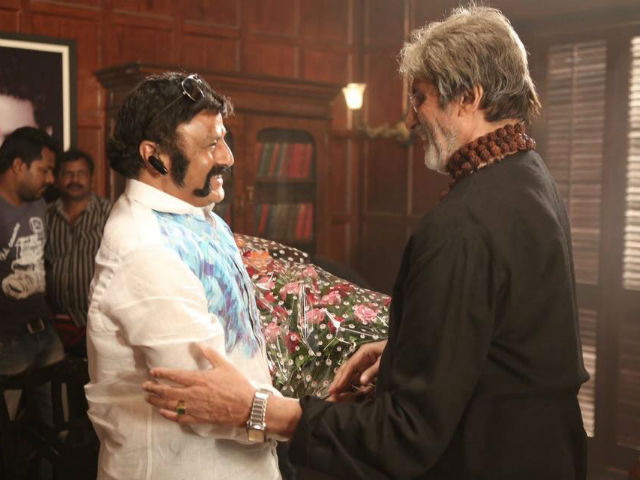 Superstar of southern film industry Nandamuri Balakrishna who recently marked 101st appearance on the big screen is upset with Megastar Amitabh Bachchan for not accepting his film. Nandamuri who flew down to Mumbai to meet Amitabh on the sets of Ram Gopal Verma's directorial Sarkar 3 had conversation with Big B regarding the role.
In an interview to Deccan Chronicle, Nandamuri said, "We went to Mumbai to meet him for this film. It was an important and good role. Although he didn't directly turn us down, he said that problems could arise, which was complete escapism". He insisted that the work for film will be proceeded only after Mr Bachchan provide his consent for the role. He said that the subject of the flick revolves around one of the important issues of farmers. "We've done so many films, but this subject highlights the plight of the farmers, the backbone of our nation," he said.
Interestingly, Amitabh has signed biopic on Uyyalawada Narasimha Reddy starring Chiranjeevi. Does it mean he didn't like Rythu's script? When Balayya, as his fans fondly call him, was asked about the same, he simply laughed it off. The actor who is known for not mincing his words was slammed by Chiranjeevi and Amitabh's fans for his comment of the duo's political careers.
Reportedly, the star said, "Politics is always grooming, not emotion. Only NTR had seen highest peaks in Politics though he is an emotional person. What has Amitabh Bachchan done by entering Politics? He did nothing other than defeating a Great Politician like Hemvati Nandan Bahuguna by contesting from Allahabad in Uttar Pradesh. Mr.Bahuguna might have done something good to the country had if he won. Big B has done nothing other than offering Autographs & Photos in Parliament. Politics isn't a easy field to sustain...What happened to Chiranjeevi? No one will shine...I can guarantee! We are different...Our Blood & Breed is something else...we have the sustainability."
Recently Nandamuri''s 101st movie Paisa Vasool hit the screens and has reportedly minted Rs 20 crores so far.