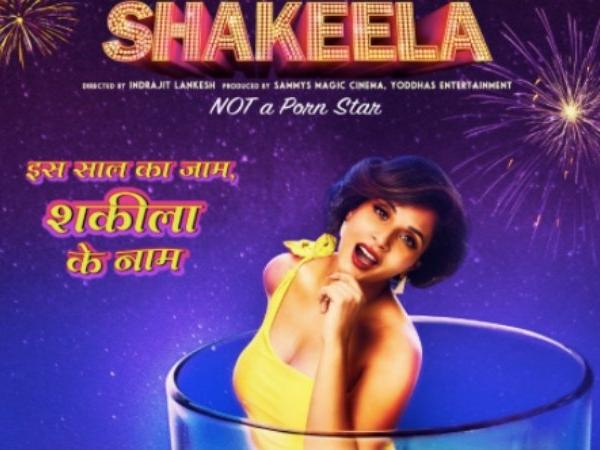 Bollywood actress Richa Chadha is all set for her upcoming film Shakeela, and will be essaying the role of the popular south film star Shakeela. Shakeela, who was known for her adult films in the South cinema, became an overnight sensation after her first mainstream movie, Playgirls, alongside famous late actress Silk Smitha. While Richa had recently shared the first poster of the movie, a new look of the actress at the beginning of the year has surfaced on the internet. 
Taking to her Instagram account, Richa Chadha shared Shakeela biopic new poster with a caption that read, "HAPPY NEW YEAR peeps! #2019Shakeelakenaam".
The film delves into the life of the glamorous actress, who has worked in Malayalam, Tamil, Telugu and Kannada films. Shakeela has also given her personal insights into the film in order to make it as authentic as possible.
With the tagline "Not a porn star", the film attempts to steer away from the stereotypical image that most people might have of the popular actress. The film will also attempt to challenge the audiences and instead portray the depth of a narrative related to the woman behind the phenomenon of an unlikely superstar.
Speaking about the film, Richa had previously said, "When I was offered this role I was very apprehensive but then I met Shakeela And I saw her gutsy attitude, and it became easy. She had forgiven everyone who had done ill to her in her life and she has moved on and is in solace living a minimal life. Even today when she works, she commands great respect and that's the story we wish to bring forth."
Shakeela will also have a cameo in the biopic, produced by Sammy's Magic Cinema and Yoddhas Entertainment.  Indrajit Lankesh has directed the film, which also features Pankaj Tripathi as an over dramatic actor-producer of the '90s.
Shakeela is slated to release sometime early in 2019.
For more Entertainment and Bollywood News, stay with us.