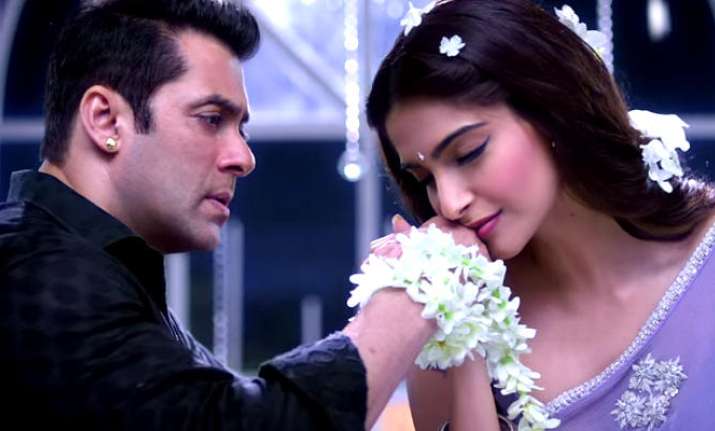 Actress Sonam Kapoor delivered one of her biggest box office success last year with 'Prem Ratan Dhan Payo'. But little does anyone know that superstar Salman Khan was not ready to work with her in the Sooaj Barjatrya directorial. Sonam, made this revelation during a conversation to a leading daily when she was highlighting that being a star kid was not that easy.
Sonam was talking about how being actor Anil Kapoor's daughter did not help things for her. She said she lost out on many movies and was on verge of losing out on PRDP too. Sonam said that Salman thought how can he romance the daughter of his close friend Anil.
"Salman Khan didn't want to do Prem Ratan Dhan Payo with me. He was like, 'Anil Kapoor has been my close friend. How can I romance his daughter?' It was really difficult and weird," Sonam was quoted by a daily.
Now, this is definitely something about the movie which was hidden from everyone till now.
Giving another example that the world of Bollywood is not a cake walk for star kids. Sonam said that her mother and Farah Khan are best friends, yet Farah did not cast her in movies. Leave casting, Sonam said Farah doesn't even look at her, as someone she would consider for a movie adding that work relationships is different.
When Sonam was further asked to shed light on the path of star kids like Alia Bhatt and Sonakshi Sinha in Bollywood, the 31-year old actress said that all of them (including her) are at a place because of their talents. Citing examples of currently reigning actresses of Bollywood like Priyanka Chopra and Deepika Padukone, Sonam said that none of them are from the filmy families.
"Nepotism exists everywhere but that doesn't make the journey any easier," Sonam said.
Sonam Kapoor said that it took her a long while to shake off the image of being a 'brat'. She said that since she belonged to a wealthy family, imagining her being a brat came easy to people. However, Sonam said that she did not take anything from her family and sometimes Anil Kapoor used to get frustrated. He used to get angry over her attitude asking what good is all the work he has put in the industry when Sonam wouldn't take help.
Explaining how she made peace with all the 'born privileged' stance, Sonam said,
"Now, I've made peace with it as I feel I've been born into a family, given this talent to make a difference and I'm not going to let some outsider guilt-trip me into believing that I'm just a girl born with a silver-spoon who had it easy in life. That's very unkind and an unfair judgment."
Sonam was last seen in 'Neerja' which got her good reviews from critics and lauds from viewers. She is currently preparing for her upcoming movie 'Veer Di Wedding', directed by her sister Rhea Kapoor.