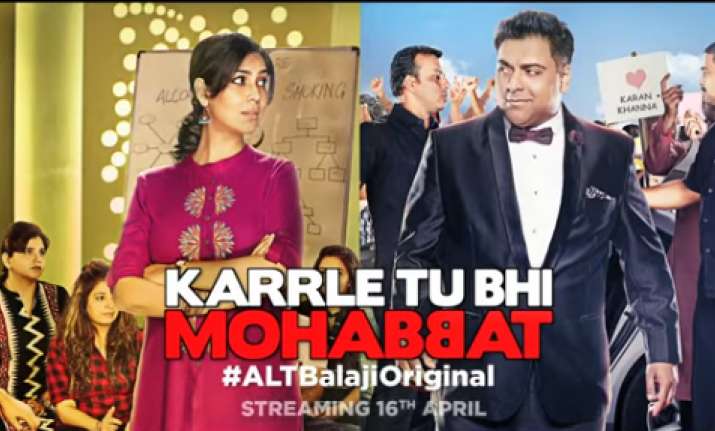 Television most loved couple Sakshi Tanwar and Ram Kapoor are back together with Ekta Kapoor's web series Karrle Tu Bhi Mohabbat.
One of the most popular couple of TV Sakshi and Ram will make you fall in love with their cute love and hate on-screen chemistry. 
In the first trailer of the Karle Tu Bhi Mohabbat, the Dangal star Sakshi, who is portraying as a doctor helps actor Ram aka Karan Khanna to get rid of his drinking habit. 
Both Sakhi and Ram are two totally different characters with different lifestyle. 
Guys the trailer is finally out hope you guys like it https://t.co/8bbgt2SqFJ

— Ram Kapoor (@RamKapoor) April 10, 2017
Ram is a stubborn character in the series, who hardly wants to give-up on his alcohol addiction and keep irritating Sakshi with his lethargic attitude.
Meanwhile, Ram leaves no stone unturned to tease and irritate Sakshi in the series. There are different hilarious moments in the series which will take you on a laughter riot. The actor is so much addicted to alcohol that he doesn't mind hiding the liquor bottle in his knickers.
There is yet another comical dialogue in the series, when Ram said, he is so demanding that girls keep 'solah somvaar vrat' to enter his room.
The actor keep troubling Sakshi with his similar funny punches in the series.    
Sakshi, who was lastly seen performing wife of Aamir Khan in his blockbuster hit Dangal has come up in a fresh avatar.