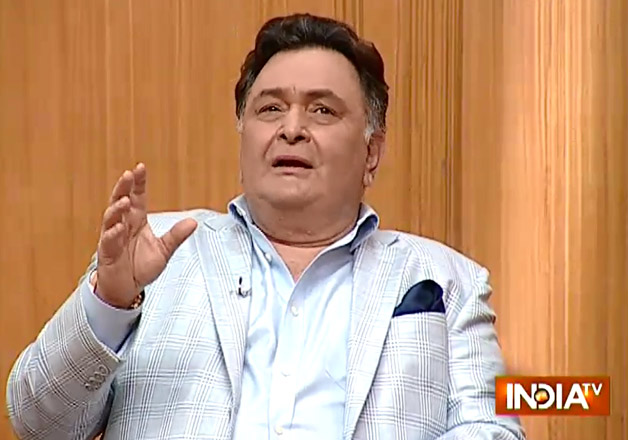 Veteran actor Rishi Kapoor passed away in Mumbai, on Thursday morning, after a two-year battle with leukemia. The actor has definitely been one of the most magnificent artists Bollywood had ever seen.  Known for speaking his heart out, he always entertained his fans with his stellar performances as well as his quirky personality. A statement from the family informed that the actor had kept the doctors and nurses treating him entertained till the last. Rishi Kapoor had always mesmerized everyone with his acting skills, be it that of a romantic chocolate boy in 'Bobby', a mafia leader Rauf Lala in 'Agneepath' or the adorable 90 year old dadu in 'Kapoor & Sons'. However, apart from his movies, the veteran actor's personal life had also been in the limelight frequently. When the veteran actor featured on India TV's Aap KI Adalat, he revealed many interesting things about his life. 
In his interview to India TV's Chairman and Editor-In-Chief Rajat Sharma in the popular show 'Aap Ki Adalat', Rishi Kapoor spoke about his era in Bollywood to son Ranbir's love life, the controversies surrounding him and much more.
Here are the highlights of Kapoor's conversation with Mr. Rajat Sharma.
1. Rishi Kapoor had marked his debut as an actor with 'Bobby' opposite Dimple Kapadia in 1973. The movie turned out to be a hit and Rishi-Dimple became the overnight stars. 'Bobby' not just kick started Kapoor's career, but also changed the perception of the industry towards actors and actresses. Rishi stated, "Before 'Bobby', an actor was termed as 'mard' while and actress was called an 'aurat'. However, after 'Bobby', the scenario changed. Now the actor became a 'ladka' and actress became a 'girl'. 'Bobby' gave Rishi an image of a lover boy, and the actor justified it in every sense. He portrayed the romantic hero image for around 25 years and romanced nearly 23 newcomer actresses in this span.
 
2. The veteran actor also spoke about the much talked about love affair between Raj Kapoor and Nargis. Raj-Nargis had worked in 16 movies and were said to be madly in love with each other. However, they couldn't marry each other. Rishi Kapoor said, "We respect this fact that while working together two people tend to get attached with each other and do move over friendship. We are human beings and a human will love a human itself. It happens with everybody. It is part of life. We are not ashamed of Raj Kapoor's relationship with Nargis and share a cordial relation with her family. It's history and we respect that."
3. Rishi had always been known for not being the one to mince his words. He was often seen expressing his opinions on several things which often made him land in controversies. The veteran actor never spared people from the industry as well. He commented on celebs wearing sunglasses at night to having numerous bodyguards and even focussing on body-building rather than acting. He said, "I say what I feel and I still don't understand the logic behind wearing sunglasses at 2 a.m in the night." Talking about the celebs having bodygauards, Rishi said, "Having body guards has become more of a style statement." The veteran actor also advised the young actors who have been busy focussing on making physique and showing it off, suggesting they must emphasise on their acing skills as well.
4. Rishi also created a buzz over the alcohol ban in Bihar saying that with this prohibition, he won't visit the state ever. To this Bihar CM Nitish Kumar even targeted the actor saying it's as if Rishi is visiting Bihar every now and then. On the show, Rishi Kapoor spoke about his tweet, clarifying "This was my own opinion that prohibition has never succeeded in the world. Prohibition leads to the empowerment of the underworld and even police take advantage of it. The people who have to consume alcohol, they will do it even if it is illegal. While the prohibition will benefit the politicians, police and corrupt people, it is the aam janta who will suffer. When someone is forced not to do a certain thing, it is human nature to try it once. It should be a person's decision to decide what not to do'.  
5. The 'Karz' actor also spoke about his much hyped tweets about the Gandhi family which had sparked a huge controversy. Rishi had stated that why the Gandhi family had so many national assets on their name. He explained, "I have no aspirations to become a politician, nor did I say this to please the ruling party. I was neither trying to impress anybody, nor do I seek Padma award or Rajya Sabha membership. I respect the Gandhi-Nehru family which gave us leaders of great calibre like Pandit Nehru, Indira Gandhi and Rajiv Gandhi. What I said was, whether we should name all our national assets  in every city of India after a single family. Don't we have eminent people who built cities and our great country? The Kapoor family has been a supporter of Congress every time, but the issue is that sycophants in the party are trying to name all public assets to please the family...We have many politicians, like Sardar Patel, Ambedkar, Lokmanya Tilak, Bhagat Singh, who gave their life for this country."   
6. Rishi Kapoor was also questioned about his praises for PM Narendra Modi, to which he replied, "I feel, whatever Modiji is saying is correct. My only request to him is that, he should fulfill his promises soon. I am patiently waiting and I am hopeful he would definitely fulfill." The veteran actor also praised HRD Minister Smriti Irani's speeches in Parliament saying she made 'emotional and courageous' speeches,  and said 'though I do not know the veracity and truth of what she said. But she definitely convinced everybody.'
7. MR. Rajat Sharma also asked Rishi Kapoor why he was never given the Padma award by the previous Congress regimes. The actor replied, "Yes, I learnt this after working (in films) for 44 years. Now even the age of getting an award is over. But my regret is that even Shammi Kapoor was not honoured. It's sad. In our government, a person is awarded only if one has a pull in Delhi. They do not give awards to deserving persons."