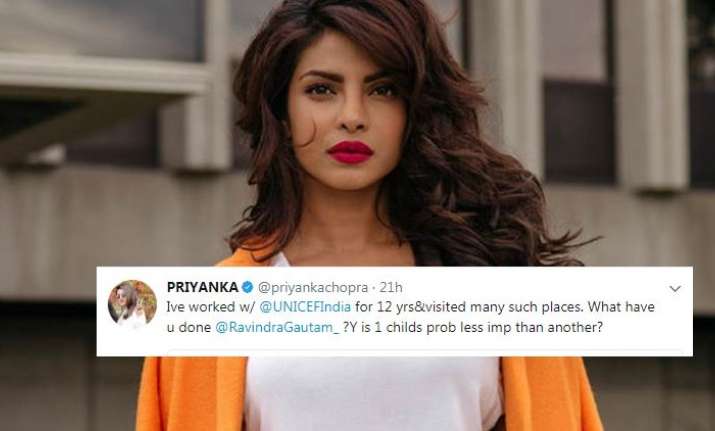 Priyanka Chopra is very busy these days, but this time not for shooting for her film or promoting them. Piggy Chops, as we know, is a Goodwill Ambassador of UNICEF. She was in Jordan recently to visit children who have been misplaced or are living in pitiable conditions due to civil war. The actress posted several photos and videos on social media accounts as well. Amid the majority of appreciative comments, there was one Twitter user who asked Priyanka to visit the rural areas of India. 
The actress, who is famous for her witty and clap-back responses, took no time to answer him as well. 
The Twitter user wrote: 
I would request @priyankachopra that do visit rural areas of India where malnourished kids waiting for food. #MissionForChildren https://t.co/VTKdrRBUkr

— Ravindra Gautam (@RavindraGautam_) September 10, 2017
To this Priyanka Chopra replied: 
Ive worked w/ @UNICEFIndia for 12 yrs&visited many such places. What have u done @RavindraGautam_ ?Y is 1 childs prob less imp than another? https://t.co/GaxeKyXDrK

— PRIYANKA (@priyankachopra) September 10, 2017
Priyanka Chopra has been doing her bit for the society being the Goodwill Ambassador for UNICEF. She visited the children of Jordan to make them a little more comfortable. Earlier, she visited Zimbabwe kids who were victims of sexual abuse. 
The actress was moved by the vulnerability in the world and took to Twitter to share her experience. Priyanka Chopra shared a video narrating her feelings on the same. 
I have never done this when I do field trips... #MissionForChildren #PCInJordan #ChildrenOfSyria @UNICEF https://t.co/nEwsJSxFY3 pic.twitter.com/f74QWIY00j

— PRIYANKA (@priyankachopra) September 10, 2017
"I have never done this when I do field trips, but on this one I feel compelled to reflect on what I feel after every session because I felt a lot. The anger and agony I felt seeing these beautiful hopeful children ravaged by war was so raw. The world has seen the pain war has left in Syria but the resilience and joy and hope in spite of it is so inspiring to me. These kids are my inspiration. They should be yours too."
For more entertainment news and updates, follow our Facebook page