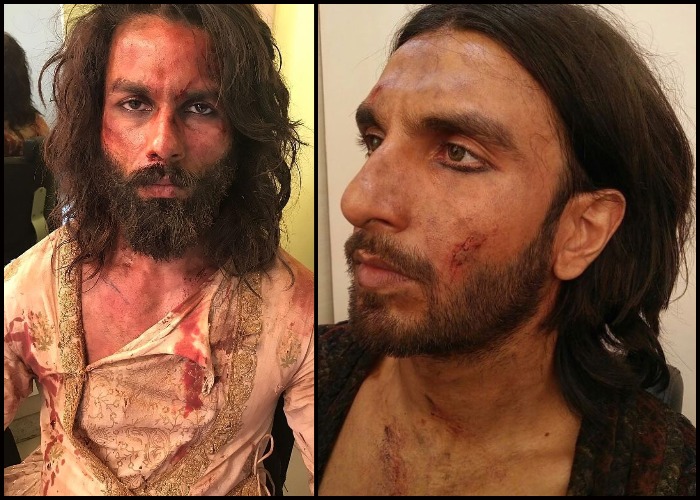 Sanjay Leela Bhansali's magnum opus Padmaavat has created waves on social media, before as well as post its release. After the Deepika Padukone-starrer finally hit the theatres, audience can't stop raving about the performance by the lead cast including Deepika Padukone, Ranveer Singh and Shahid Kapoor. Ranveer Singh as Alauddin Khilji has got Twitter pouring in with tweets from cinephiles who are awestruck seeing him on silverscreen. But did you know that Alauddin Khilji and Maharawal Ratan Singh were the most challenging roles for both Ranveer Singh and Shahid Kapoor respectively.
Recently, pictures of Ranveer Singh and Shahid Kapoor undergoing transformation for their roles in Padmaavat, got viral on internet. Check them out here.
Talking about the troubles that went into the making of Alauddin Khilji, Ranveer Singh told Hindustan Times, "My brain had turned into mush, my body had turned into pulp, I had no feeling in my muscles. I kept pushing but physically, I was breaking. But when you have your back against the wall, you need to keep digging deeper."
"I try to be as honest to my craft as I can possibly be. The dark person that Khilji was, I had to become that from the inside. I had to feel all those things and that can be unhealthy. The shooting process was non-stop. I would put on the make-up for two hours and shoot for 12-14 hours straight and repeat it the next day. I lost touch with myself. I realised that something was wrong. I had become uneasy, unstable. So I first confided in my mother and my best friend. They started spending time with me after the shoot. They brought me back to myself. I was lucky to have that kind of support," he added.
Talking about the challenges he faced for getting into the skin of Maharawal Ratan Singh, Shahid Kapoor told HT, "When I said yes to Padmaavat, I felt like an underdog for the first time because I knew that out of the three roles, mine – though it was a good part – was the least author-backed. I remember when I met Sanjay sir, he told me, 'Shahid, I can't do this film if you say no to it because I need all the three characters to be of a certain type. If you don't do this, I don't know how I will make this film because I need the love story to work and I need a hero in the film as I have a very strong anti-hero.' I told him, 'sir, I am at a certain stage in my career, so, do you feel I should do this film?' He said, 'I wouldn't have come to you had I not believed (that you should do this film)'. I instantly said yes, and didn't even hear the script."
No wonder why admaavat is faring phenomenally well at domestic as well as international box office. It is all set to break the records of some of the most successful films of Indian cinema. Apart from the visual opulence of the film, Padmaavat is getting enthusiastic response from audience for the star casts' spectacular performances. Now we know how our chocolates boy Ranveer Singh and Shahid Kapoor turned into a barbaric ruler and a hard-headed Rajput respectively.