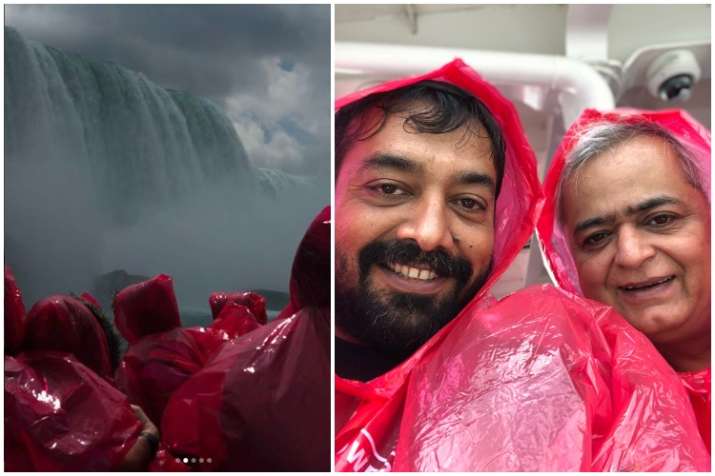 What happens when two noted filmmakers of Bollywood goes out on a trip together? They find art in some of the most unusual places. That's what happened when Hansal Mehta and Anurag Kashyap went to Canada to visit Niagara Falls. However, the way they saw the beauty of this scenic falls is not something you get to see everyday. In a series of pictures, Anurag Kashyap tried to decode the mindset of the filmmaker who churned out critically-acclaimed films like Shahid, Omerta, Aligarh and Citylights.
In the pictures, while the crowd is busy eyeing the colossal group of waterfalls, Hansal Mehta had his face in the opposite direction to the lot. Anurag Kashyap was quick to notice this and captured the moment on his camera. Sharing the picture, he wrote, "Me and @hansalmehta went to the Niagra and when we were near the falls , Hansal was looking in the opposite direction at an abandoned building(pic 3,4,5), which I don't know how many people actually see.. Explains him a lot ..( Omerta decoded)"
Hansal Mehta's Omerta release on May 4, clashing with Amitabh Bachchan and Rishi Kapoor's 102 Not Out. The film received mixed reviews from the critics while Rajkummar Rao's performance was hailed by all.
Omerta is a real life account of infamous British terrorist of Pakistani descent, Omar Saeed Sheikh. The terrorist was the master mind behind WSJ's journalist Daniel Pearl's murder. The film was screened at Toronto International Film Festival 2017, Hong Kong International Film Festival 2017 and Busan International Film Festival 2017.
On the other hand, Anurag Kashyap will be presenting his next venture Manmarziyan in September this year. It will have Abhishek Bachchan making a comeback after a sabbatical of two years on silverscreen. Apart from Junior Bachchan, the film also stars Vicky Kaushal and Taapsee Pannu.