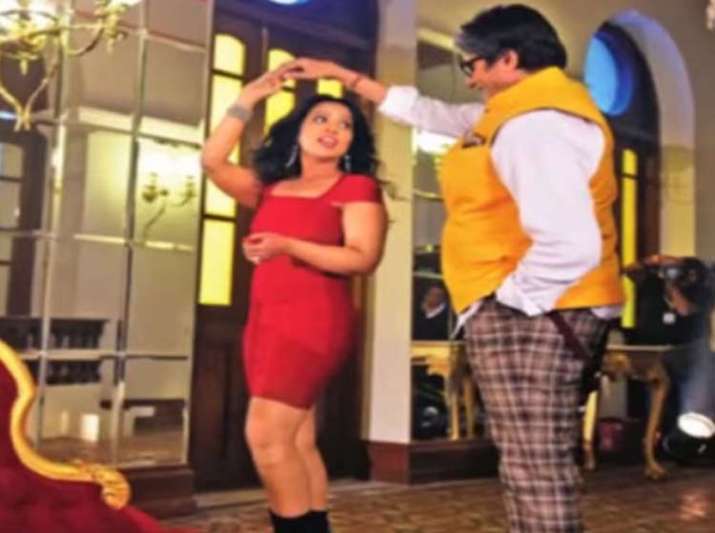 Maharashtra Chief Minister Devendra Fadnavis's wife Amruta Fadnavis will soon make her debut to the glamour world with a music video opposite megastar Amitabh Bachchan. 
Amruta, who is Associate Vice-President, Axis Bank, a leading private sector bank, is a trained singer, and fast becoming the darling of the social media.
On Wednesday, a sneak peek of her shooting a music video with Big B on Tuesday night hit a tabloid front-page - and the social media went aflutter, with most backing and lauding her, and with of course, some trolls too.
Looking sophisticated, she is seen attired in a short red dress, complemented with high-heeled shoes, and doing a jig with Bachchan who appears quite stiff.
"Shooting a video with VIP celebrity at the famed Opera House" was how Bachchan briefly tweeted on the shoot.
The duo shot for a song titled "Phir Se" in which Amruta seeks admission to a dance institute headed by Bachchan and they engage in a conversation, according to director Ahmed Khan of the video produced by Bhushan Kumar.
Amruta has earlier sung a playback song for Kunal Kohli's film, "Phir Se" and Prakash Jha's "Jai Gangaajal", both released in 2015.
However, this would be the first time that a Chief Minister's wife would also be seen singing and acting in a video, which was shot over entire Tuesday at the recently refurbished Royal Opera House in south Mumbai.
"Shooting a video with a VIP celebrity in the famed Opera House is so superb and it's so awesome to dance with him," was how Amruta described the experience.
Mumbai Congress President Sanjay Nirupam displayed obvious annoyance and said: "80 people have died due to 'note-bandi' (demonetisation). The real beneficiary of new currency dancing with Big B. Did you both PM & CM notice it?"
But noted writer Shobhaa De encouraged - "Amruta Fadnavis. Ignore critics! Go for it," in a tweet.
There were others: "Khub jamega rang, jab hoga nachna, gaana aur Panama" with a rider that the tweet had nothing to do with PanamaLeaks.
And some killjoys also wondered what would be the reaction of the RSS, which recently changed to full trousers, at Amruta's glam-antics.
In the past, Amruta has made heads turn and raised eyebrows while walking the ramp at a special fashion show, and addressed women's seminars, rallies, television shows, concerts, paid homage to the victims of 26/11 -- her long list of engagements virtually matches that of the Chief Minister.
Amruta is a drastic change from the usually staid, unadventurous apolitical wives of erstwhile Maharashtra Chief Ministers, where the 'better half' mostly preferred to remain in the shadows of the powerful husband.
But not Amruta - as her Twitter account proclaims: "Banker, playback singer, social worker, home-maker... Be the change you wish to see."
(With IANS inputs)