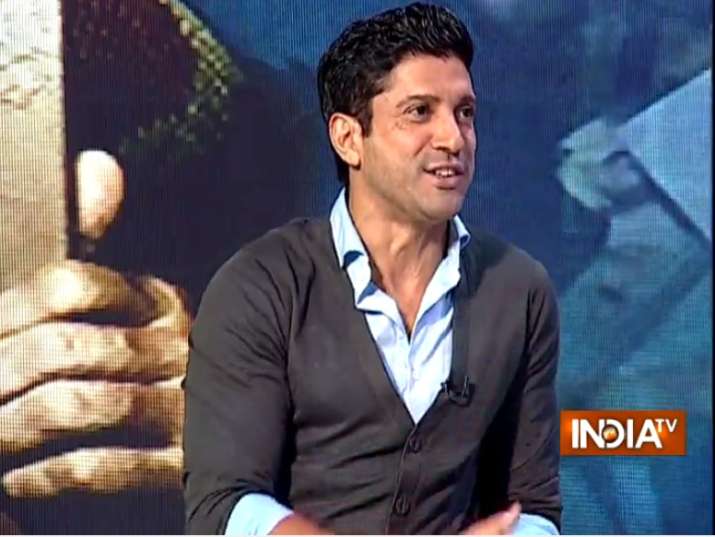 Bollywood director-turned-actor Farhan Akhtar is set to wow us all with his upcoming film Lucknow Central, which will release on September 15. Directed by Ranjit Tiwari, the intense drama draws inspiration from a real-life incident.  The upbeat and talented actor Farhan to spoke exclusively to India TV and revealed interesting details about the film. Female lead Diana Penty, filmmaker Ranjit Tiwari and Bhojpuri sensation Manoj Tiwari also accompanied Farhan Akhtar and, poured their hearts out. Take a look at how the Lucknow Central team had fun on India TV.
Secret behind Qaidi no 1821
In the film, Farhan is the Qaidi no 1821.When asked about the special reason behind choosing the specific number, the Rock On actor revealed, "I didn't choose the number. In fact, I wanted Qaidi no 786 but that didn't happen". He then went on to speak about his character. "Kishen Mohan Girhotra is a simple boy from Moradabad whose only dream is to make it big as a musician", said the actor.
Music as a tool to reform prisoners
Actress Diana Penty, who was last seen in Happy Bhaag Jayegi, spoke about her charcter in Lucknow Central. "In the film, I am portraying the role of Gayatri Kashyap, an NGO worker, who believes in reformation. She uses music to reform the prisoners in the film so that they can have some means of survival once they are out of the jail", said the actress.
For details, watch the full interview right here
On a related note, Lucknow Central is headed for a box-offoce clash with the Kangana Ranaut starrer film Simran, which has been directed by Hansal Mehta. Both Bollywood movies are set to release on September 15 and, will defintely give tough competition to each other.