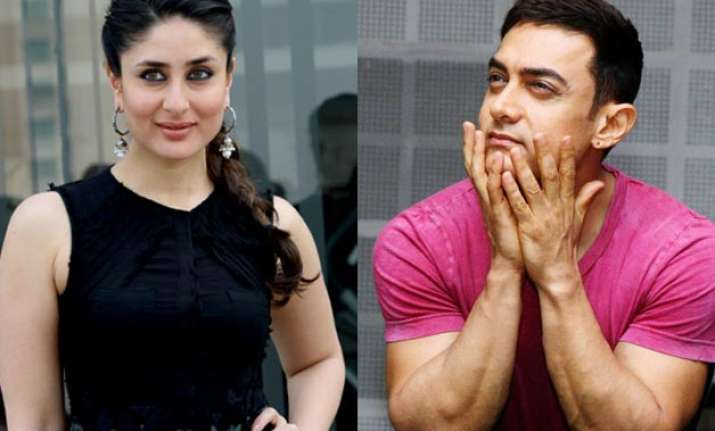 New Delhi: It's been a while when the entire country went furious over superstar Aamir Khan after he voiced his opinions on the rising intolerance in India.
Aamir had stated how his wife Kiran asked him to leave the country, as she feared for the safety of the children.
Soon the 'PK' star faced a backlash from the entire country for his remarks. However, there were some people who did coincide with Aamir's opinion.
In fact, even the B-town was divided in two segments, the one opposing Aamir and the other supporting him. However, Aamir, after the much heated controversy, clarified his stand saying he never called India as intolerant'.
And now we have another supporter of Aamir Khan from the tinselvile – Kareena Kapoor.
Bebo, who is not much active in voicing her opinions about the socio-political scenario in the country, recently spoke about the 'intolerance' debate.
While talking to a leading daily, the 'Tashan' actress that she is very much aware about what all is happening around her.  
"Everybody today gets fried for voicing their opinions. So, is it really important? I don't know. Contrary to what people think, I don't live in a bubble. Everybody makes fun of my space cadet behaviour, but I am extremely aware of what's going on around me. My morning newspapers are nothing to do with gossip at all, but in fact, I read up on the latest news happening in India and the world. Over the last two years, I wait to sit with my chai and read up on current affairs," said Kareena.
"I may not voice my opinion in public because I don't need to be vociferous to show how involved I am in current affairs or reading the newspapers. But if somebody asks me, of course, I will have an opinion. But I have not been asked and secondly, I am not on Twitter, so I don't get up in the morning and tweet my opinions," she added.
On being quizzed about the Aamir Kahn intolerance debate, Bebo stated, "I don't think Aamir said anything wrong. He just addressed a fear. It was a conversation that he was talking to his wife about. I don't think he meant anything damaging by it. Of course, 500,000 opinions followed and as many clarifications were issued. There will always be anger and unrest as opinions are expressed. India is made up of highly emotional people."
Currently, Kareena Kapoor is busy promoting her forthcoming movie 'Ki and Ka' opposite Arjun Kapoor, which will hit the screens on April 1, 2016.