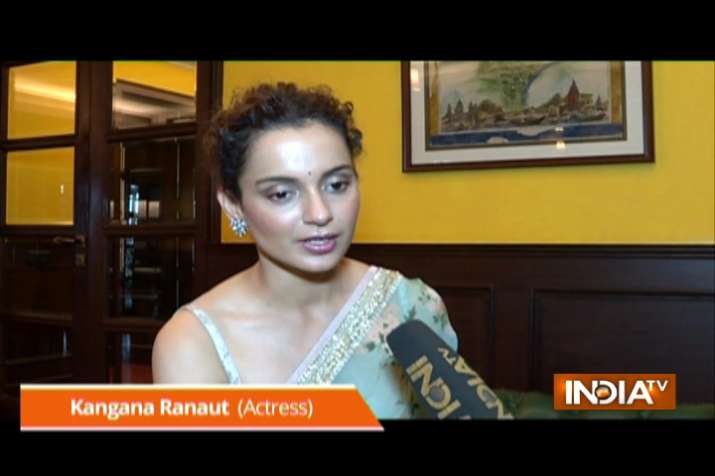 Kangana Ranaut, who started off the year with Vishal Bhardwaj's Rangoon, is set to star in the film Simran. Directed by Hansal Mehta, the movie will hit the cinemas tomorrow and, the lead actress Kangana says she's confident that the audience will love her new film. In an exclusive interview with India TV, the 30-year-old actress poured her love for Simran. Talking about the film, Kangana Ranaut recalled a horrifying incident that happened in the US while shooting for the film. 
"I, my sister Rangoli and the Simran team were in the highway when suddenly the driver of our car fainted and, his head hit the steering. The car went all haywire but, thankfully nothing bad happened and, we were extremely lucky to escape such a big accident", said Kangana.
When asked about how she feels about her fans who eagerly wait for her film to release, Kangana Ranuaut couldn't hold back her happiness. "I feel extremely happy and honoured that several people long to see me and my work", said the actress.
"My upcoming film Simran is very close to my heart and, I am confident that the audience will love the film", a happy Kangana Ranaut added. Watch the full exclusive interview right here.
The Hansal Mehta film Simran tells the story of a Gujarati NRI woman Praful Patel, played by Kangana. Her role in the film complete opposite to her character Rani in the film Queen.  While Rani a small-town girl with mild disposition was unable to speak her heart out, crazy Praful can do anything-right from gambling to stealing. 
Simran is releasing tomorrow i.e., on September 15 and, the Kangana Ranaut starrer film will have to battle it out with Farhan Akhtar's Lucknow Central, which also releases tomorrow. 
For more entertainment news and updates, follow our Facebook page