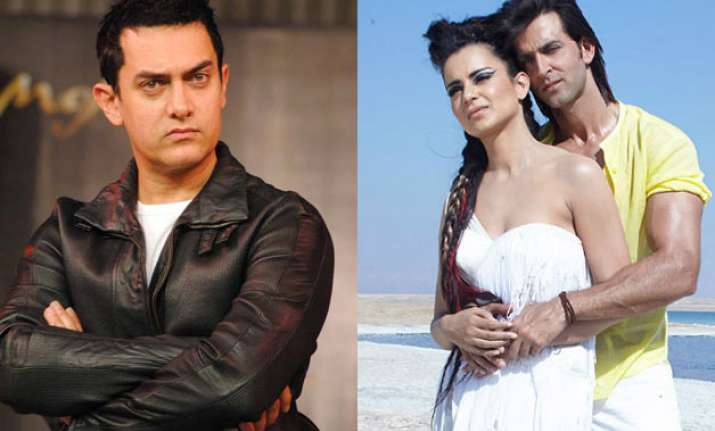 New Delhi: The ugly fight between Hrithik Roshan and Kangana Ranaut is what everyone is talking about these days.
Be it a kid or a granny, everyone is buzzing about this rivalry. The spat between Hrithik and Kangana began after the 'Queen' actress allegedly called Duggu as her 'silly ex'.
In fact, their fight became worse after the ex-lovers sent out legal notices to each other. While Hrithik seems to be unaffected, Kangana, on the other hand, is reportedly taken aback by all this mess.
Although, the diva is standing out strong but she seems to be looking for an emotional support. Interestingly, according to the media reports it is Aamir Khan who has come out in support of Kangana in her legal battle against her ex-flame.
Indeed, Aamir's involvement did raise a lot of eyebrows, but looks like there is another angle in the story as well.
As per the recent buzz, the 'PK' star is not supporting Kangana in her tussle.
"Aamir Khan has nothing to do with Kangana and Hrithik's ongoing controversy. Yes, he does share a cordial rapport with Kangana, but that does not mean he is going to interfere in her personal life. He is busy with 'Dangal' and is focusing on work front right now,"
a source close to Aamir, reportedly told an entertainment portal.
Aamir has been quite fond of Kangana and has often been vocal about this. But after this statement by one his close aides, we wonder who will come in support of Kangana Ranaut.