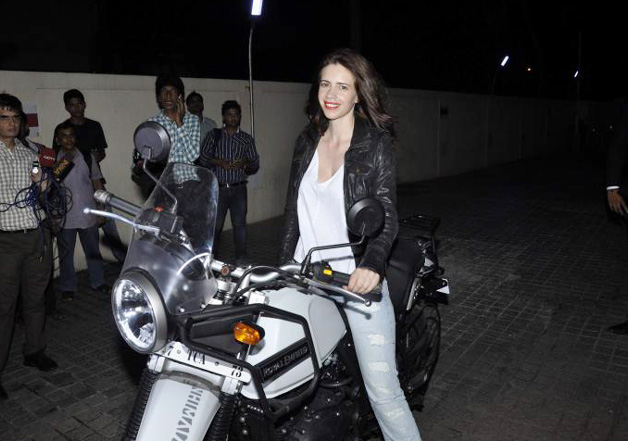 Actress Kalki Koechlin, who recently made a strong statement on feminism, said that she would prefer "acting in films or doing theatre" over playing herself on TV.
The actress is going to make her TV debut with Kalki's Great Escape show. Kalki said that she is very choosy about working on small screen but FOX Life show is an exception.
She gave nod to the project because it allowed her to spend some time with her father Joel and that the show echoes with her personality, Kalki said.
"I don't do many TV shows because I'd rather be doing films or theatre. I am an actor... I would rather be acting than playing myself on TV. So I don't do TV shows... so this was the time I did since we (she and her father) did this again after many years," Kalki said.
Wow! Soha Ali Khan and Sharmila Tagore to feature on this TV show!
In the show, Kalki will be seen going on a motorbike adventure to the north east with her father Joel, who is a biker and photographer.
The duo will be seen sharing many experiences during the ride through unexplored terrains of Assam, Arunachal Pradesh and Meghalaya.
Kalki, during the interaction, also added that the films have kept her busy so far but now she can have some family time with her father.
She said: "We have not done many trips that we used to do earlier so that was definitely one of the reasons."
When asked why she chose Northeast, Kalki said, "We wanted to go to the Northeast because we have travelled a lot in India but didn't go to Northeast at all. Initially, my dad wanted me to cover (all) the seven sisters but then time constraint was there.
"We felt the need to find someone who knew the kind of theme which is not a regular TV show, and is kind of travelling to entertain people, but kind of more spontaneous and raw and kind of discovering things as we go along."
She said that the channel "understood that".
Highlighting the show's concept Kalki asserted that it is about discovering the place, interacting with the locals and learning from the people.
Her father Joel also had fun being a part of the show.
He said: "It is a first for me and I think from the extracts that I have seen it is coming better than I thought."
The show will go on air on FOX Life from Saturday.
With inputs from IANS